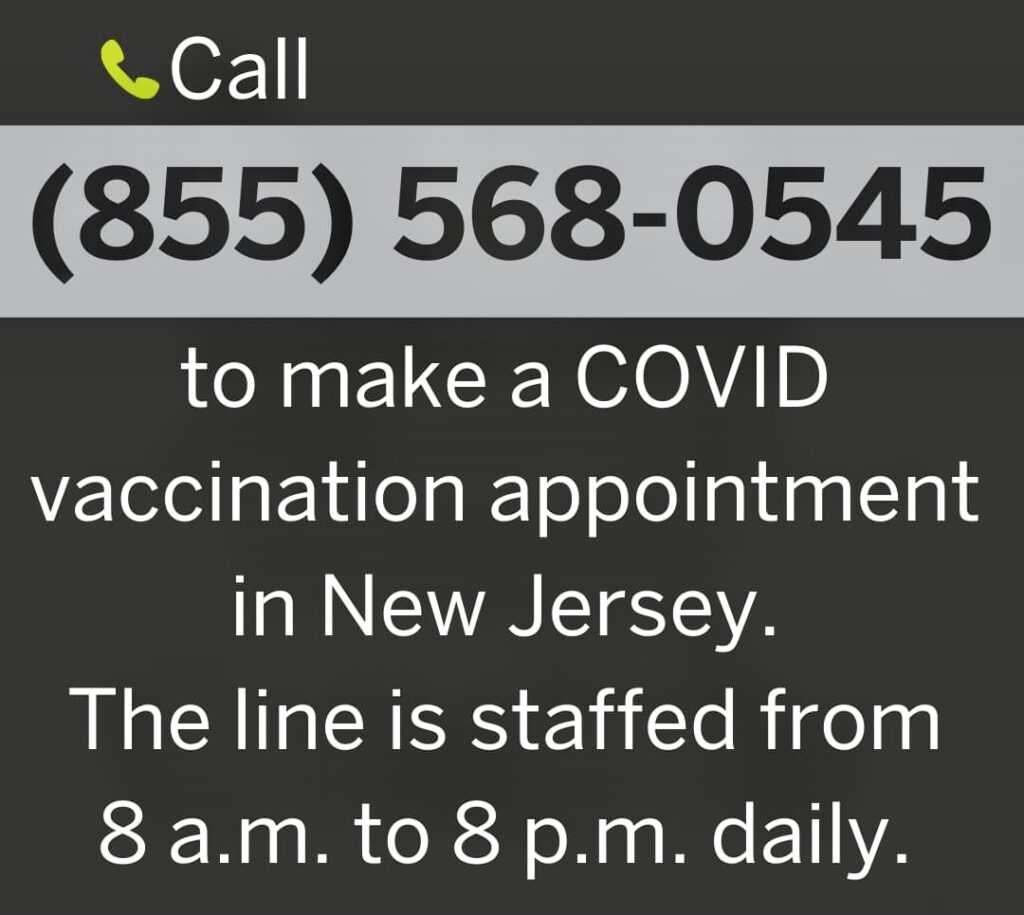 Register yourself and your family for the vaccine at the following link:
Below is a list of facilities in Middlesex County which receive and administer the COVID-19 vaccine.

If you are eligible to receive the vaccine, which many people now are, you should call each facility and see if they are currently taking appointments.
An update on the COVID vaccine from the NJ Dept of Health:
As of the morning of Friday, February 5th, 745,552 people have received their first dose, and 179,956 people have received their second dose in New Jersey. Approximately 2.4 million people have registered for the vaccine on the State's New Jersey Vaccine Scheduling System.
As you know, demand for the vaccine has far outpaced supply. Currently, New Jersey is receiving approximately 210,000 vaccine doses per week – this includes both first and second doses. Per the recent Federal Government announcement on February 2nd, we expect our State allocation to steadily increase in the future.
If you registered on the State's Vaccine Scheduling System, available at
covidvaccine.nj.gov
, you should first be notified when you become eligible for the vaccine. You will be notified again when an appointment is available to you through the Vaccine Scheduling System.
If you are eligible for the vaccine but have not yet been notified about available appointments in the Vaccine Scheduling System, there are additional ways to get vaccinated, described below:
You can make an appointment directly with a vaccination location that does not use the Vaccine Scheduling System. View these locations at
covidvaccine.nj.gov.
If you are a Veteran or live or work at a VA facility, you may be eligible for vaccines through the VA. Learn more at
va.gov
You can also call 855-568-0545 – the New Jersey COVID-19 Vaccine Call Center with any questions related to the State's COVID-19 vaccination effort.
Everyone should receive both doses of the vaccine. Your first and second dose appointments should be scheduled at the same location. A vaccine site should be able to assist you in scheduling your second dose after you receive your first dose, or will let you know that you will receive an automatically scheduled appointment within one week of your first dose..
Currently, vaccines are available to:
Paid and unpaid healthcare workers
Residents and staff of long-term and high-risk congregate settings
First responders including sworn law enforcement and fire professionals
Individuals aged 65 and older
Individuals aged 16-64 that have certain medical conditions that increase the risk of severe illness from COVID-19
Thank you for your patience and for continuing to wear a mask, wash your hands, practice social distancing and following public health guidance for everyone's safety.