Memorial Municipal Building
61 Cooke Avenue, Carteret, NJ
Phone: 732-541-3890
Department Head / Staff Information
Taqualla Lowman –Health Director
AJ Singh – Health Inspector
Lester Jones – County Health Official
Vital Statistics
HOURS OF OPERATION:
MONDAYS, 9:00 A.M. – 2:00 P.M.
WEDNESDAYS, 9:00 A.M. – 2:00 P.M.
FRIDAYS, 9:00 A.M. – 2:00 P.M.
Appointments needed for marriage and civil union license applications
Email [email protected] for appointments
Contact Information:
[email protected] for questions, concerns or information related to
vital statistics i.e. items related to Marriage, Birth and/or Death certificates,
Health i.e. Dog/Cat Licensing, public health concerns/complaints
Senior activities
Retail food licensing
[email protected]  for any questions, concerns, or information pertaining to:
recreation activities planned by the Borough
Recreation Trips
Summer Concerts
Movies in the Park.
[email protected]  for questions related festivals
CLICK HERE FOR ALL HEALTH DEPARTMENT FORMS
Email Forms to [email protected]
The Health Department is responsible for all health related issues and is overseen by a Board of Health which has an obligation to protect the residents by initiating health policies for our community. The Health Department encompasses Vital Statistics, Office on Aging, Senior Transportation and Environmental.
The Director of Health/Senior Services must maintain good communication skills with the Board of Health so that all health needs are fulfilled. All Health complaints and concerns are addressed on a daily basis, along with issuing of Retail Food Licenses, Retail Food Inspections, Dog and Cat licenses, Vital Statistics which includes issuance of certified copies of Birth, Death and Marriages, along with Marriage licenses, inquiries, corrections, Pre-Demolition inspections and permits, Environmental, Preventative Health Screening Clinics including, Eye, Hearing, Mammograms, Melanoma, Osteoporosis, Blood Screenings, Well Baby Clinics, and Flu and Pneumococcal (pneumonia) Clinics.
Office on Aging is dedicated to offer programs and services to senior citizens in our community. The Carteret Office on Aging offers free programs and assistance in accessing state, federal and private programs designed for senior citizens, and activities such as group exercise, arts & crafts, and bingo. This office assists seniors with inquiries and application for federal, state and county programs such as social security benefits, PAAD/Senior Gold, County RX program, and Lifeline Credit program. (This program is for those that have questions and need assistance in resolving Medicare Issues).
Senior Transportation includes in-town medical providers, supermarkets, malls and social/recreational events. We have partnered with Middlesex County Office On Aging to provide our homebound seniors with meals on wheels, congregate meals that are served daily to those who come to the center. We also have an ensure program for those that have special nutritional needs. Must schedule pick-up 24 hours in advance by calling (732-802-3014).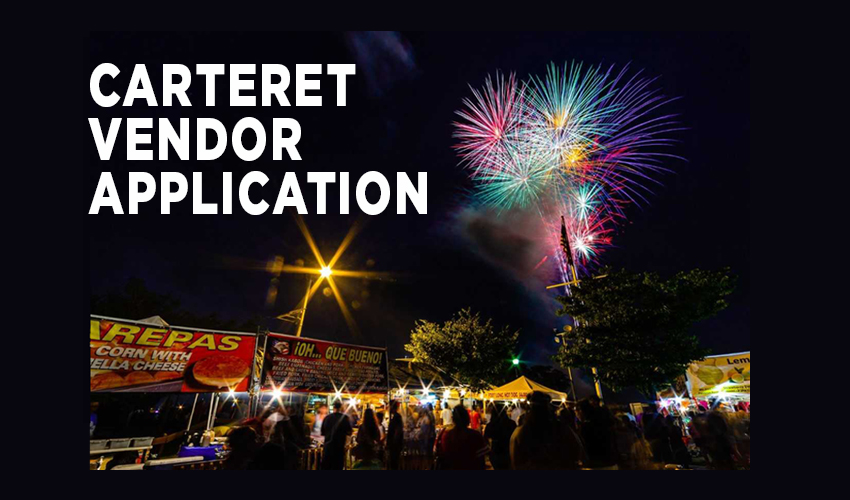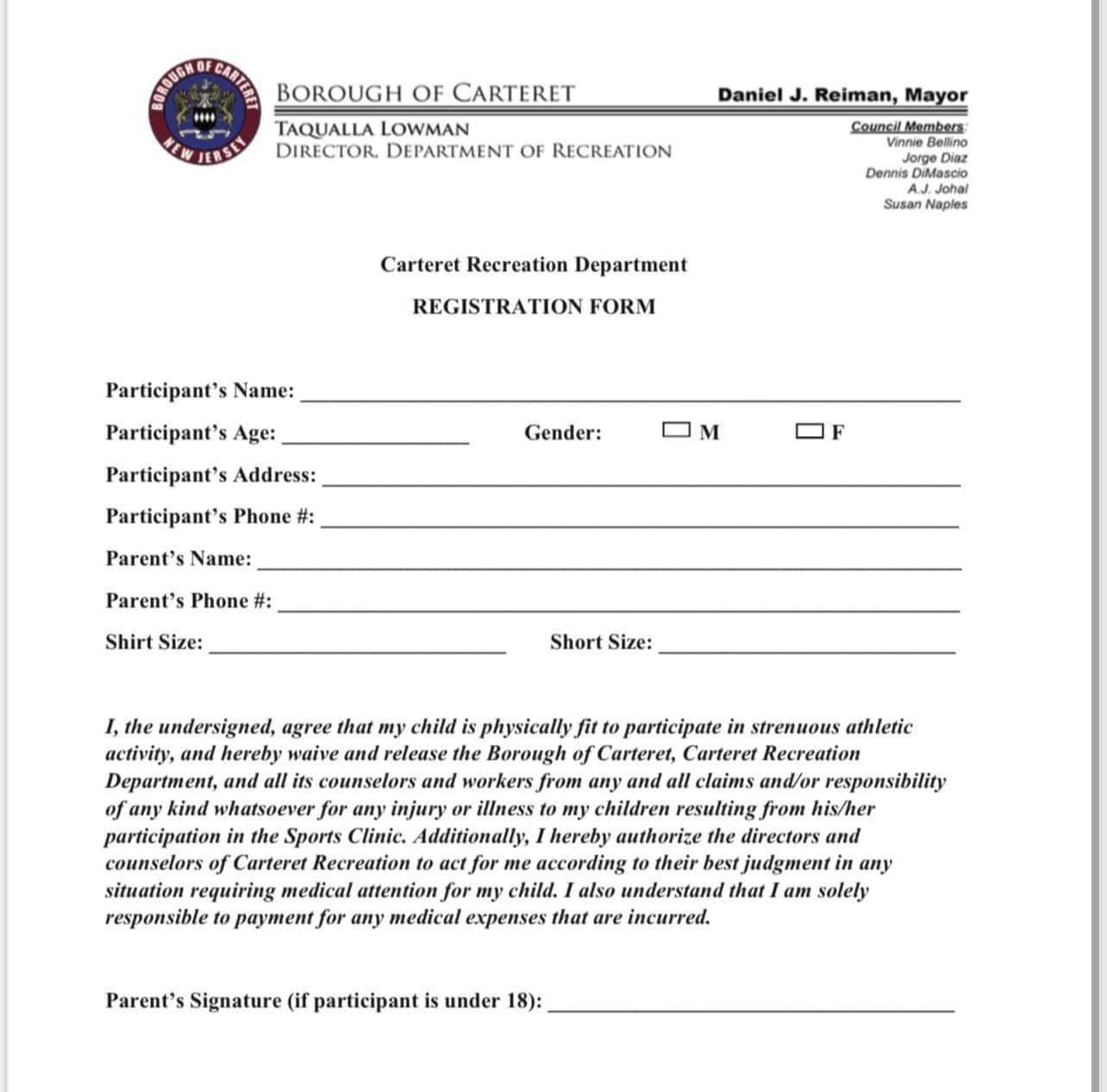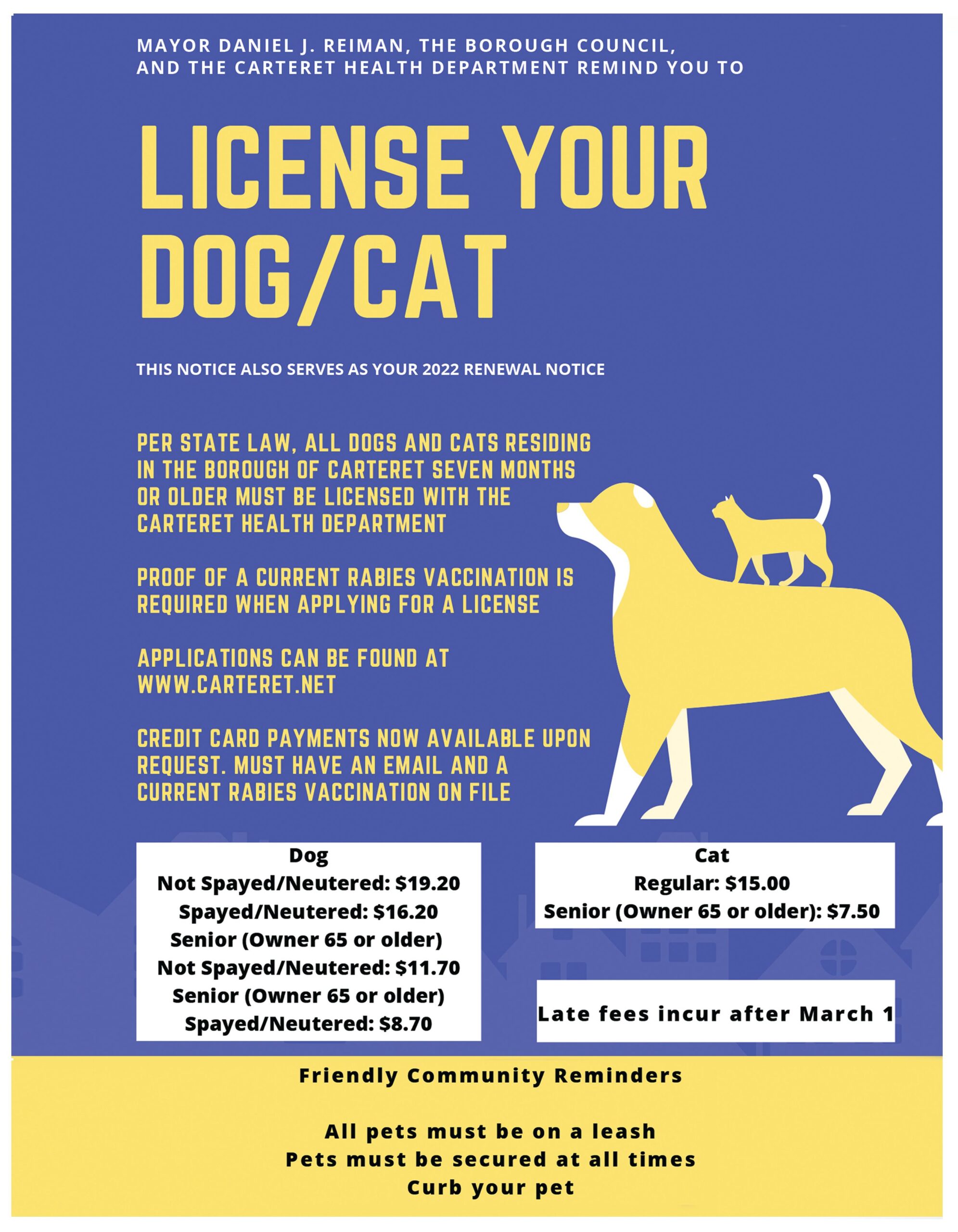 Pet Licensing and Vaccination Information
The NJDOH recommends revaccination of dogs and cats prior to expiration of the previous vaccination to ensure a beneficial overlap of immunity. Administering a rabies vaccine before the duration of immunity of a previous vaccination has expired is not associated with an increased occurrence of adverse reactions in dogs is NOT medically contraindicated.
PET LICENSING Pursuant to N.J.A.C. 8:23A-4.2, to issue a dog license, the pet owner must first supply to the dog licensing clerk a rabies vaccination certificate signed by a licensed veterinarian indicating that the animal's duration of immunity extends throughout at least the first ten months of the twelvemonth licensing period. Animals that have a duration of immunity which expires prior to the ten-month cut-off must receive a booster rabies vaccination prior to licensure. Boostering the animal's immunity before expiration of the previous vaccination has not been associated with an increased occurrence of adverse reactions.
Rabies Vaccine & Pet Registration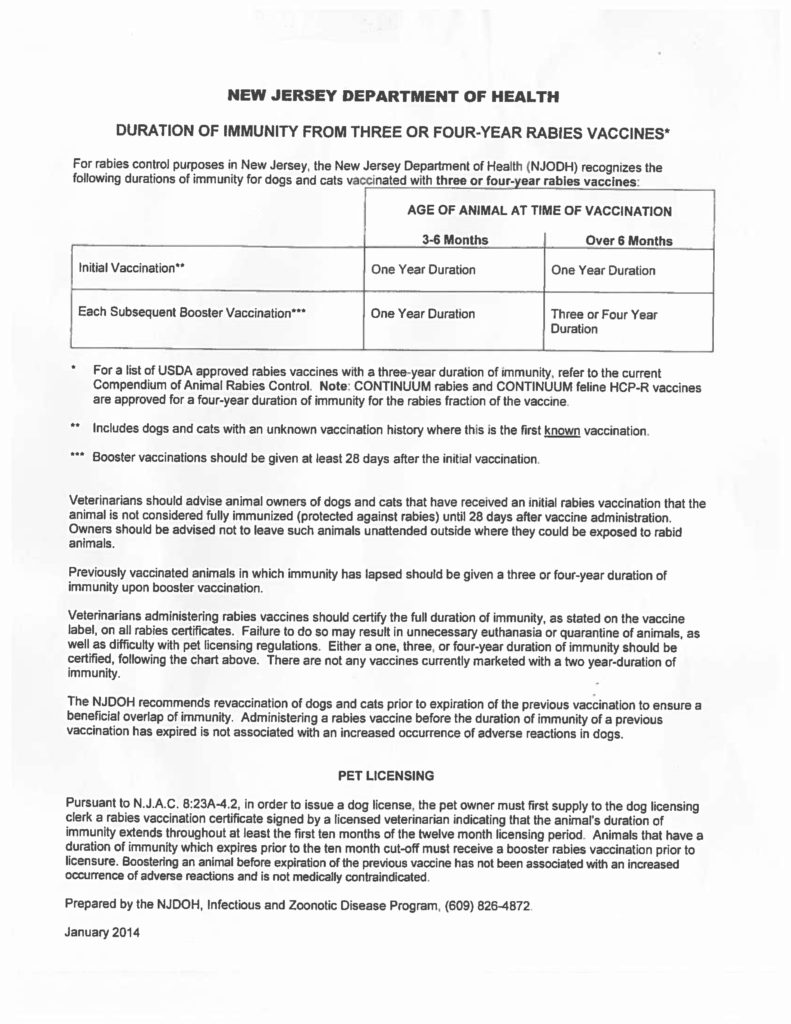 Neutered Pet Licensing Pricing
Un-Neutered Pet Licensing Pricing