Carteret, NJ – Mayor Daniel J. Reiman hosted a public town hall meeting on Monday, September 9th to discuss the upcoming $37 million Carteret schools building referendum on Tuesday, September 24th. The meeting, held at Carteret's Thomas J. Deverin Community Center, was attended by many Carteret residents, including teachers showing their support, taxpayers with questions, and curious voters seeking more information.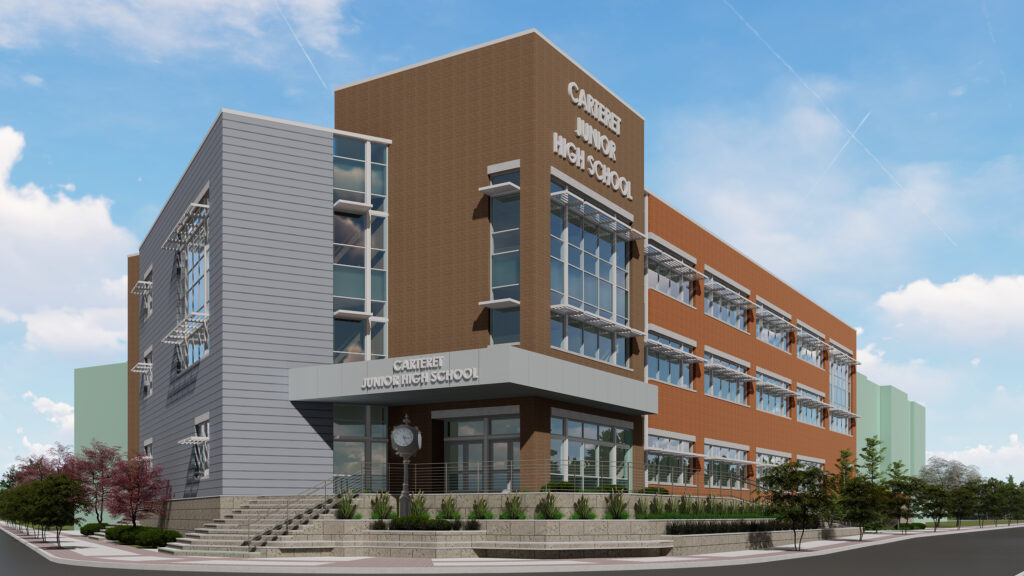 "What this referendum (public question) does is asks the resident of our community – the taxpayers, the citizens, and the voters, if they want to appropriate funding for construction of a new Junior High and improvements to all of the public schools in our community," said Mayor Reiman.
The Mayor, who served as moderator of the panel discussion, was joined by Carteret School District Superintendent Rosa Diaz, as well as the District's Auditor Gary Higgins of Lerch, Vinci & Higgins, Chief Project Architect Lloyd Rosenberg of DMR Architects and Chief Project Engineer Nicholas Rotonda of T&M Engineering.
Superintendent Diaz presented some of the improvements made in the District recently, including updated technology, some renovated classrooms, and a brand-new football field and track thanks to a collaboration with Mayor Reiman and the Borough Council. Diaz then highlighted the many improvements the referendum would provide the district including the new Junior High School and upgrades to all of Carteret's Public Schools.
"We've been working very hard to make many improvements to this district, which coincides with a lot of the upgrades that are happening in the Borough," said Superintendent Diaz. "Our district's goals are instruction – we believe that all our kids deserve a high-quality education and rigorous curriculum; student health and wellness –we want to provide a culture that's positive and supportive; high quality facilities that are conducive to learning; and security to keep our children and staff safe."
Architect Lloyd Rosenberg went over the details of improvements to all buildings in the Carteret School District and the new 600-student, 3-story, 30,000 square foot Junior High School. It will include state-of the-art classrooms and STEM labs, media spaces, a cafeteria, band and music rooms, gym, and think tank. At Carteret High School, the auditorium will be completely renovated including new lighting and sound. The fire exits and stairwells at the High School will also be made accessible and safer. At Carteret Middle School, the stairwells will also be
improved and a new heating and air conditioning system will be installed. Nathan Hale Elementary School and Minue School will receive fire exit renovations, with Minue also receiving HVAC renovations.
"When the referendum is approved, any qualified bidder can bid on the project in an open process, bids are awarded, and then construction starts," said Rosenberg. "The new building and the improvements will be ready three years from September."
Gary Higgins, CPA and Borough Auditor, explained that now is the best time financially for construction of the new Carteret Junior High School.
"We have two things going for us right now that make this the best time to build in the district," said Higgins. "A prior bond issue expired and the current debt service component of the project dropped by approximately $1.5 million, which freed up $790,000 of bond funds annually. In addition, interest rates are at historically low rates. At the current time, we are figuring about 3.5% at current interest rates. A local district just received a 1.9% interest bond. Money is cheap right now, so it's the best time to do construction."
The project is eligible for state aid on eligible costs totaling $12,586,000. On that amount, the district would receive 58.59%, totaling about $7.4 million, which would only be ascertained through a referendum and not the yearly budget. Based on current state aid figures, the cost for the average Carteret homeowner would be less than $7 per month, depending on the amount of aid the state awards Carteret. 51% of the Carteret tax base is collected through residential properties while the remaining 49% is paid by industrial and commercial properties.
This was the second of four information sessions on the referendum. It was held at 7pm to accommodate those who work late. The first session was hosted by the Carteret Board of Education during their regularly scheduled Board meeting at Carteret High School on August 28th. The remaining two sessions will be on September 12th at Carteret Middle School at 6pm and at Minue School on September 18th at 6 pm as part of Back to School Night.
For more information, please call the Carteret Board of Education at 732-541-8960 or visit the school district's website at CarteretSchools.org.