Carteret, NJ – Mayor Daniel J. Reiman today announced a landmark settlement with the U.S. Metals Refining Company, the operator of a local smelter plant that shut down operations over 30 years ago, to complete the company's investigation and remediation of any off-site contamination from the plant's past operations and to make new investments in the Borough's environment, public health, and community access to the waterfront.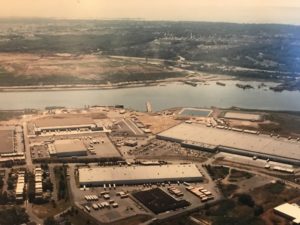 "For over twenty years, the New Jersey Department of Environmental Protection (NJDEP) largely forgot about the Borough and its long-gone smelter," Mayor Reiman said.  "When the Borough took action in 2011, U.S. Metals worked with us on a comprehensive approach to investigate and, where appropriate, clean up historic pollution from the plant.  This November 2017 settlement agreement will guide the remainder of USMR's investigation and cleanup work, while providing that U.S. Metals will make an immediate payment of $4.25 million to eliminate the prospect of protracted litigation and fund environmental and public health initiatives.  U.S. Metals will also pay an additional $3.15 million to the Borough over the next ten years."
The new settlement builds on a structure in place since 2012, when the Borough and USMR entered an agreement under which USMR is now investigating the hundreds of public and private properties that may have been exposed to metals from the smelter, with USMR agreeing to clean up those properties where lead or other contaminants linked to the smelter might pose a risk.   The latest agreement identifies additional milestones for USMR's cleanup progress, while ensuring that the Borough's environmental professionals can monitor USMR's cleanup work without the use of taxpayer money.
"We appreciate the willingness of the current owners of U.S. Metals to respond to the concerns of our community which hosted the smelter operation for more than 80 years," Mayor Reiman said.
Joseph A. Brunner, who oversees discontinued operations for U.S. Metals, said: "This settlement is consistent with USMR's commitment to remediate soils impacted by historic smelter operations in the Borough of Carteret.  We appreciate the spirit of cooperation that made this agreement possible."
U.S. Metals Refining Company, a subsidiary of Freeport McMoRan Inc. since 2007, operated a smelter and other metal refining operation in Carteret from 1903 to 1986, and first entered a consent order with NJDEP agreeing to clean up the smelter site in 1988.  But there was no comprehensive plan in place to address contamination that may have migrated off-site prior to the 2012 agreement between the Borough and U.S. Metals.
"This settlement only resolves claims that the Borough, as a public agency, may have had against USMR.  By its express terms, the settlement protects any private claims that individual Carteret residents or businesses may have pending or might pursue in future against USMR," Reiman said.
Mayor Reiman's administration has previously brought environmental claims and has won settlements against Auto Insurance Auctions, Inc., E.I. DuPont Chemical, American Agrico and Basin Holding Corp. The Borough is currently continuing testing and considering environmental claims against Conrail Corp. and PSE&G.