Carteret's Nathan Hale School celebrates centennial
with assembly, open house, historical display & tree planting
Time capsule recalls centennial celebration
for elementary school's future generations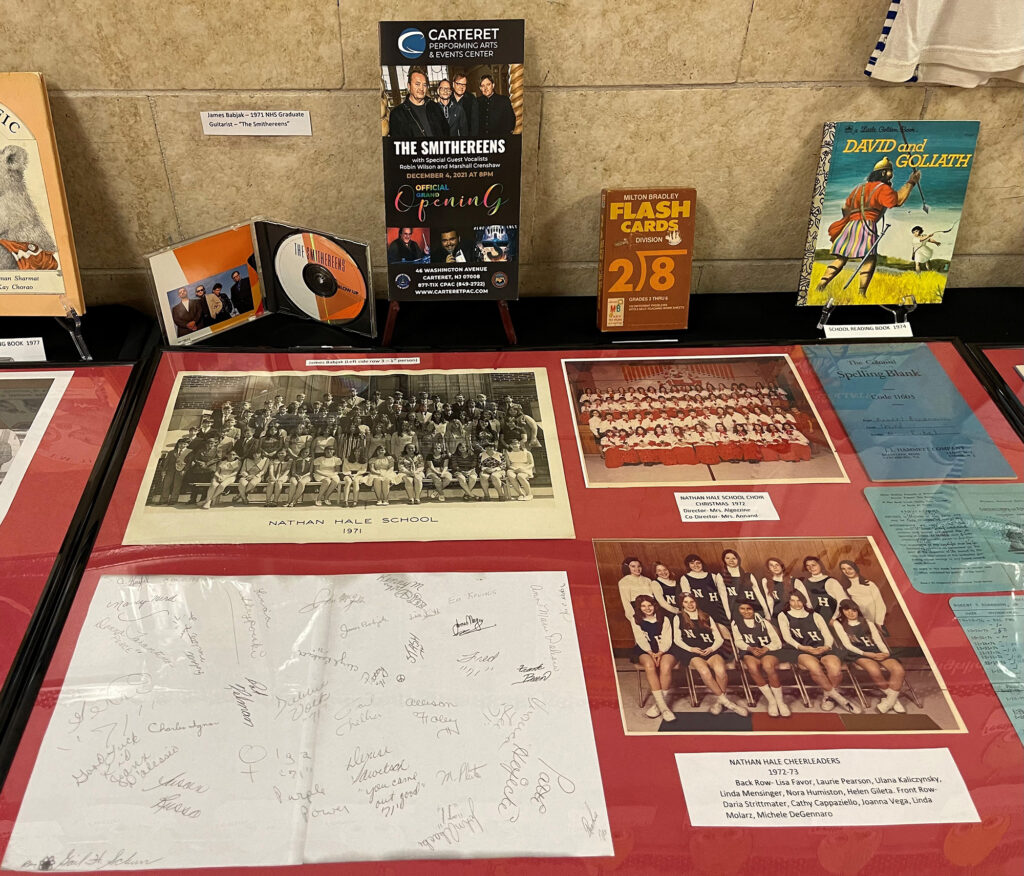 CARTERET, NJ – Nathan Hale School celebrated its centennial on April 28 with a school assembly, an open house, a historic display, and a time capsule of the celebration for future generations to enjoy. The historic display will be exhibited in mid-June at Blazing Star Cultural Arts Center, 63 Carteret Ave.
Earlier this year, the school also planted a Kwanzaan Cherry Tree in commemoration of its first 100 years.
"Nathan Hale students and all Carteret students can accomplish anything in life," Mayor Daniel J. Reiman said. "Nathan Hale School is a great place to get started to learn how to do that. I and the entire Borough of Carteret are proud of Nathan Hale School's centennial, and I look forward to the many things Carteret students will accomplish."
Mayor Reiman was among the Centennial celebration special guests. Others included:
Superintendent of Schools and former Nathan Hale Principal Rosa Diaz
Assistant School Superintendent Melissa Jones
Michael Minue, a 1949 Nathan Hale graduate and nephew of World War II hero Private Nicholas Minue, for whom a West Carteret elementary school is named
former Nathan Hale principals Christian Zimmer and Tara Romero, both of whom still work in the school system respectively as director of Data, Evaluation and Assessment, and principal of Carteret Middle School.
Well-known Nathan Hale graduates include Jim Babjak, guitarist of the Carteret-originated New Jersey Hall of Fame rock act The Smithereens.
"For 100 years, Nathan Hale School has created leaders who have impacted our community, state, and the larger world thanks to the education and nurturing they received in Carteret to become positive role models in society," Principal Erika Barrett said.
School custodian Bob Bohannon, a member of the Carteret Historic Committee, is a third-generation graduate of Nathan Hale. His grandfather, John Wuy, was in second grade when the school opened in 1923.
For the centennial, Bohannon, a retired postal worker, assembled an extensive display that includes exhibits dedicated to Babjak, early principal Joe Lomba, who coached Carteret-raised Baseball Hall of Famer Joe "Ducky" Medwick, and several other notable moments in school history.
The time capsule will include photos from the display, the assembly program, and a copy of "I Believe," a poem written by Lydia Jones, a winner of U.S. Rep. Frank Pallone's Statewide Poetry Contest. Lydia's justice-minded poem won in the area of Civic Engagement. She recited it at the assembly.
Bohannon was part of the school's centennial committee with teachers and fellow Nathan Hale graduates Kristin Kapinos, Arlene Hansen, Nancy Jorge, Hina Iqbal, Marilyn Oakes, and Hargurjit Grewel.
Donations to the school in honor of its centennial include $1,000 from the estate of Dorothy Grigni, in memory of her husband, Fred Grigni, a former Board of Education member.
"In honor of this large donation, we plan to purchase a 'Buddy Bench' to put on our playground," Barrett said. "During recess, anyone who needs a friend to play with can sit on the bench and other students will know to invite them to play. The bench will be engraved to commemorate our centennial anniversary and will be accompanied by an inscription that it was donated by Dorothy Grigni. We know her kindness will be remembered for years to come."
The centennial cherry tree was donated by Rising Up Garden Center in the Avenel section of Woodbridge and planted by borough-based landscaper Lawngevity and the Nathan Hale Student Council.
Centennial T-shirts also are available to help Nathan Hale raise funds by calling the school office at 732-541-8960.
The school's namesake was a teacher-turned-spy whose intelligence helped the Americans win the Revolutionary War. His mission cost 21-year-old Nathan Hale his life, which led him to say before he was hanged, "I regret that I have but one life to lose for my country."
Much of the school assembly was dedicated to the American patriot.
Nathan Hale School is pre-K to fourth grade. Updates will be available at carteretschools.org/Domain/10 or by following @MyCarteret on Facebook, Instagram, and Twitter. For info about the centennial exhibit at Blazing Star, call 732-541-3879 or click centraljerseyartscouncil.org/.