Carteret, NJ – Mayor Daniel J. Reiman today announced that improvements to Carteret's Peter J. Sica Memorial Industrial Highway will begin this Summer and should be completed by the Winter of 2020. Last year, the Borough of Carteret was awarded a $4 million grant from the Department of Transportation for the purposes of improving the Highway, which is a heavily-travelled truck route that connects the NJ Turnpike to Carteret's industrial hub.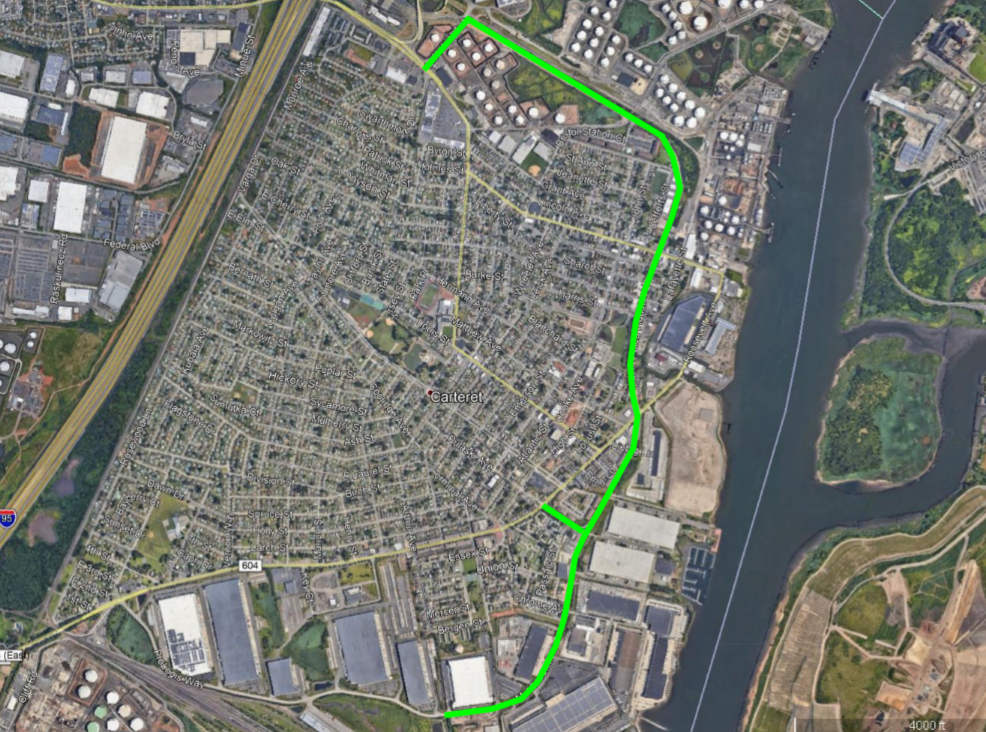 "With the continuous truck traffic and visitors to Waterfront Park constantly utilizing Industrial, it's important to keep the roadway in top shape for motorists," said Mayor Reiman. "We appreciate Governor Murphy's support for these improvements and the funds provided for Carteret in the Governor's NJ DOT budget."
Carteret's Industrial Highway and Middlesex Avenue comprise a strategic, dedicated truck route running through the eastern portion of the Borough, which supports commerce and jobs, and provides a direct connection to NJ Turnpike Exit 12. The route conveys freight traffic between Carteret's 7,200,000+ square feet of warehouse, manufacturing facilities, distribution centers and the National Truck Network. Traffic counts conducted on this highway identified an average daily traffic of 15,104 vehicles, 44% of which were commercial vehicles 5 tons or larger.
"New Jersey is the most densely populated state in the country which means our roadways are constantly the subject of extreme wear and tear, particularly when industrial traffic is a constant," said Assembly Speaker Craig Coughlin. "Grants like the one awarded to Carteret by the New Jersey DOT help ensure that roads in Carteret are safe, well maintained and able to adequately support both car and truck traffic."
Lucas Brothers, Inc. was awarded the contract to reconstruct and resurface Industrial, from the intersection of the NJ Turnpike & Drift Way, to the municipal boundary with Woodbridge Township. The total length of the project is approximately 2.63 miles. Approximately 75,000 square yards of roadway will be resurfaced with additional base pavement repairs carried out where necessary.
Some existing curbs will be removed and reset where necessary along Industrial Highway and Middlesex Avenue where necessary to correct poor drainage and ponding water along the gutterlines. Along Industrial Highway, extensive drainage improvements will be undertaken between Bristol Station and Roosevelt Avenue to replace corroded metal storm water piping with reinforced concrete pipes and to enhance the existing roadway underdrain system in this area.
Some existing curb ramps will be upgraded to meet standards set forth by the Americans with Disabilities Act. Areas of Middlesex Avenue will be striped to include 12′ wide travel lanes and 8′ wide shoulders. A traffic signal is also proposed for the intersection of Industrial Highway and the future extension of Carteret Avenue, creating a four-way intersection including the Borough's Waterfront Park Access Road. The improvements to the roadway will improve the safety of vehicles through the local roadway system. Total cost of the project is $4 million.
For additional information on all upcoming improvements, please contact Matt Zwingraf of CME Associates at 732-462-7400 or the Mayor's Office at 732-541-3801.