Carteret, NJ – Mayor Daniel J. Reiman will host the annual Children's Charity Carnival and four day Music Festival this week at Carteret Park, beginning Thursday, September 19th and running through Sunday, September 22nd. The Carnival, which benefits the Mayor's Children's Charity Trust Fund, will feature rides, games, food, live music, vendors, and attractions for families.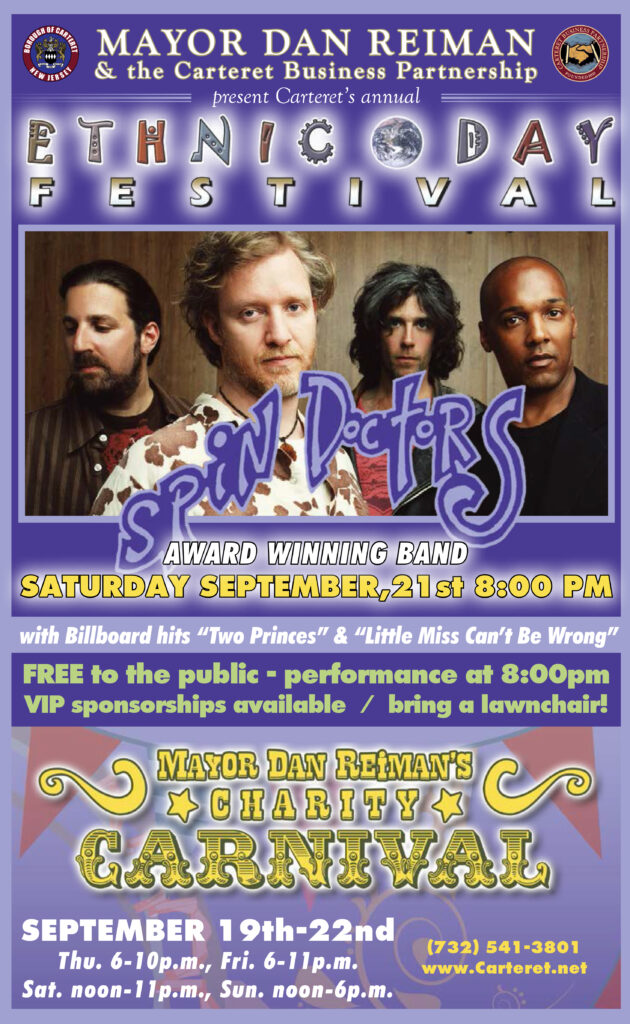 "The annual Charity Carnival and Music Festival is a great time each year for families to come together and end the Summer season with four days of fun," said Mayor Reiman. "We're excited to feature great live music performance and raise money for the Charity Trust Fund."
The Mayor's Children's Charity Trust Fund is a non-profit 501 (c) (3), which provides Carteret's children with a monetary resource for education, athletics, and health. The Trust Fund was created in recognition that many youngsters are high achievers with great potential who, with needed financial support, can better establish their own paths to success.
The Charity Carnival features an exciting four-day schedule of events and entertainment.
Thursday is Bracelet Night, featuring unlimited rides with the purchase of a bracelet (age and height restriction apply) from 6 pm – 10 pm and the music of DJ Irwin from Night Vision.
Friday is the second Bracelet Night from 6 pm – 11 pm and will feature MC Willie Will and the Latin Mix Masters DJ crew and a Live Performance by international recording artists Bachata Heightz from 9 pm – 11 pm.
On Saturday, September 21st, Mayor Reiman and the Borough of Carteret will host Ethnic Day, an annual celebration of Carteret's diverse community, featuring food from many different countries and cultures, at the end of the Mayor's Charity Carnival. Each year, Ethnic Day features a headlining act with national significance. This year's featured act is The Spin Doctors, whose hits Two Princes and Little Miss Can't Be Wrong propelled them to the top of the popular music charts, and landed them an appearance on Saturday Night Live. They have toured the world performing since 1991 and are excited to perform at Carteret's Ethnic Day. Rich Hennessey will open for the Spin Doctors at 7 pm. The concert will be immediately followed by a spectacular fireworks display at 9:15 pm.
Mayor Reiman's Charity Carnival will conclude on Sunday from 3 pm – 9 pm with a live performance by one of the most popular and dynamic cover bands in New Jersey, Garden State Radio.
To learn more about Mayor Reiman's Charity Carnival and all the Borough of Carteret has to offer, visit Carteret.net.