CARTERET, N.J. – Carteret Mayor Daniel J. Reiman was joined by US Sen. Bob Menendez, and Congressman Frank Pallone today to announce the awarding of a $6 million Federal Transit Administration (FTA) grant for Carteret's future ferry service to Manhattan.
The $6 million is specifically awarded to NJ Transit for the Carteret Ferry Service and is allocated toward the purchase of a 299-seat passenger ferry that will be leased to the Borough of Carteret for $1 per year, bringing the total federal funding for the project to over $10 million.  An additional $2.4 million was earmarked by the U.S. Congress in 2005 for Carteret's ferry service when the idea was first proposed.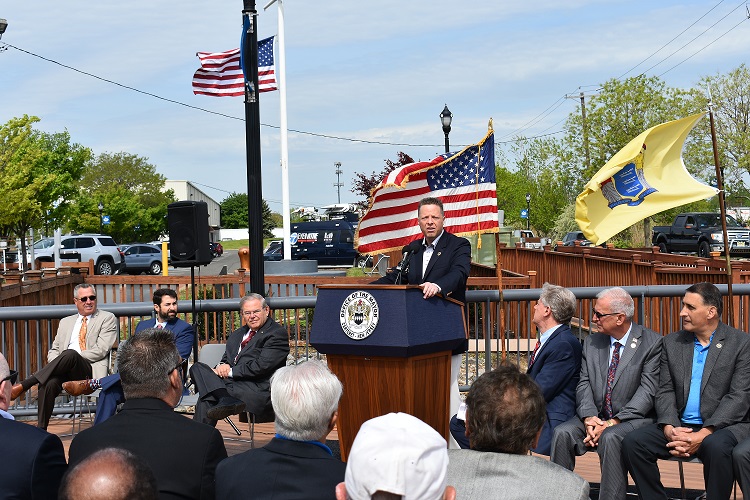 "The over $10 million being supplied to us by the federal government is a direct result of our unrelenting effort to bring ferry service here to Carteret.  For years we have battled bureaucratic red tape at the Federal and state level and now concrete steps are being taken to make this project a reality," said Mayor Daniel Reiman.  "Carteret is quickly becoming one of the most desired locations for commuters to call home.  New residential and commercial opportunities, combined with our future ferry service, soon-to-open marina, upcoming theater district, upgraded parks, and stable tax rates solidify Carteret as a great place to live, work, and raise a family."
A 1996 Port Authority of New York and New Jersey (PANYNJ) study determined Carteret's waterfront along the Arthur Kill Channel, separating Middlesex County and Staten Island, to be a viable location for ferry service to Manhattan.  Carteret's new ferry service will provide reliable, significantly quicker and more environmentally-friendly transportation service to New York City, cutting travel times to Manhattan to under an hour, while reducing traffic congestion on the New Jersey Turnpike and approaches to the Holland and Lincoln Tunnels by getting more commuters out of their cars.  Additional benefits of the ferry include:
Providing reliable and significantly quicker and more environmentally-friendly transportation service to New York City;
Reducing congestion on the New Jersey Turnpike and roads leading from the Turnpike into the Holland and Lincoln Tunnels;
Reducing reliance on the automobile in a densely populated area well-suited to the development of robust public transit service;
Providing redundant transportation service in instances of an emergency or a catastrophic event;
Providing an affordable, accessible and dynamic transportation system responsive to current and future customers;
Protection and improvement of the quality of the natural ecosystem and the human environment;
Retaining and increasing economic activity and competitiveness;
Transforming an area of environmental degradation into a catalyst for economic development; and
Accommodating continued population growth in Carteret and the region;
"Today is a good day for Carteret and a good day for New Jersey commuters—and it's been a long time coming," said Sen. Menendez.  "A new ferry means faster commutes, greater access to jobs, and better quality of life for residents. Even those who won't personally use the service will still reap the benefits of cleaner air, fewer cars on the road, and less crowding on N.J. Transit trains and buses. The more transit options you have, the more potential you have to create new jobs, to connect communities, and to build broad-based growth and economic opportunity."
The Carteret Ferry Terminal, expected to open by 2022, is part of a bold redevelopment plan along Carteret's waterfront that includes building a 185-slip marina in Waterfront Park, with Phase 1 expected to open this summer, and an events center at the park, and constructing a $13.25 million boardwalk and river walk funded through a grant through the state Department of Environmental Protection (DEP).
"Our  nearly 2 miles of public access along our eastern shoreline, including our ferry, marina, events center, and walkway is a remarkable fete for a community that had no public access to the waterfront for over 100 years," concluded Mayor Reiman.
Additional information on the Passenger Ferry Grant awarded to Carteret by the Federal Transit Administration is available at www.transit.dot.gov.
Sen. Menendez on Carteret Ferry Grant

"Today is a good day for Carteret and a good day for New Jersey commuters—and it's been a long time coming," said Sen. Menendez. "A new ferry means faster commutes, greater access to jobs, and better quality of life for residents. Even those who won't personally use the service will still reap the benefits of cleaner air, fewer cars on the road, and less crowding on N.J. Transit trains and buses. The more transit options you have, the more potential you have to create new jobs, to connect communities, and to build broad-based growth and economic opportunity."

Posted by Dan Reiman on Friday, May 11, 2018