CARTERET, NJ – Mayor Daniel J. Reiman today announced that the Borough of Carteret has awarded a contract from public bid with NY Waterway to purchase Carteret's first ferry boat.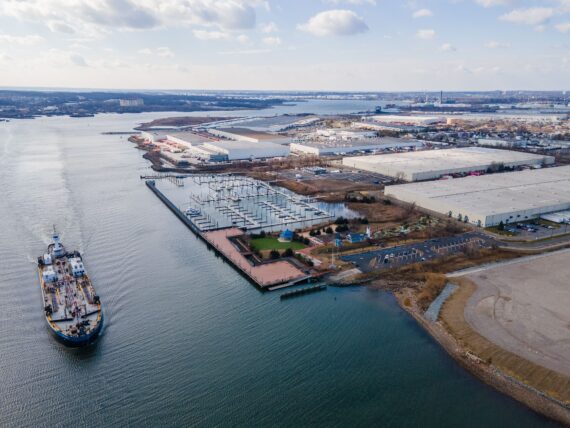 "We are excited to announce that NY Waterway, a regional leader in ferry boat operations, has won the bid to sell Carteret its first ferry boat," said Mayor Reiman. "Soon the ferry will safely and efficiently deliver commuters from Carteret and around our region every day to downtown Manhattan and the Financial District."
Port Imperial Ferry Corp. d/b/a NY Waterway, based in Weehawken, NJ, won the bid to provide a 149-passenger ferry boat for $2,250,000. The contract was officially approved by a Borough Council resolution on December 9th, 2021.
When operating, the ferry will provide quick and reliable service to numerous stops in Manhattan for both commuters travelling to work and for those seeking recreation.
Additional benefits of the ferry include:
Providing reliable and significantly quicker and more environmentally-friendly transportation service to New York City;
Reducing congestion on the New Jersey Turnpike and roads leading from the Turnpike into the Holland and Lincoln Tunnels;
Reducing reliance on the automobile in a densely populated area well-suited to the development of robust public transit service;
Providing redundant transportation service in instances of an emergency or a catastrophic event;
Providing an affordable, accessible and dynamic transportation system responsive to current and future customers;
Protection and improvement of the quality of the natural ecosystem and the human environment;
Retaining and increasing economic activity and competitiveness;
Transforming an area of environmental degradation into a catalyst for economic development;
Accommodating continued population growth in Carteret and the region; The NJDOT Office of Maritime Resources anticipates the marine dredge portion of the project within the coming months with an anticipated start date of 2022.
NY Waterway currently operates ferries out of four terminals in Manhattan as well as in Jersey City, Hoboken, Weehawken, Edgewater, Belford, and was just awarded a contract for South Amboy. Commuter peak service is also provided on the Haverstraw–Ossining Ferry, Newburgh–Beacon Ferry, and to the Raritan Bayshore. In addition, NY Waterway operates excursions and sightseeing trips to Yankee Stadium, Gateway National Recreation Area, and Governors Island.
Funding for the ferry was provided by a $1 million grant from NJ Transit as promised in the New Jersey Fiscal Year 2022 budget and an additional $1.25 million grant from the Port Authority Capital Fund.
As per the contract with NY Waterway, Carteret's ferry will include an ADA-accessible bathroom, two decks, bench-style seating, climate control, new ceilings, new lights, and new paint.
Carteret will begin operating the ferry after final approval from the Army Corps of Engineers and dredging of the Arthur Kill River is completed.
For more information on Carteret's Ferry Terminal and Waterfront Park, please visit Carteret.net.