Carteret, NJ – Mayor Daniel J. Reiman will be joined by the Carteret Board of Education and the Borough Council on Friday, September 28, 6:30 pm, at Walter Overholt Stadium to commemorate the opening of Carteret High School's new football field and track with a ceremonial ribbon cutting. The ceremony will be followed by the varsity football team's first scheduled home game of the season against Colonia at 7 pm.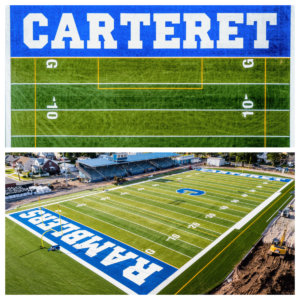 This ceremony marks the end of Phase 1 of renovations at the stadium, which includes construction of a multi-purpose synthetic turf field, reconstruction of the asphalt track to regulation size with a new rubberized surface and lane markings, and added field improvements including areas for shot put, pole vault, long, triple and high jump, and discus.
"These renovations will help enhance the quality of the competitive experience for our student athletes." said Mayor Reiman "The facilities will also be available to the public when not in use for school activities, which provides our residents with a new park and active recreational opportunities for local youth sports and recreation."
The cost of Phase I was $2 million dollars and was funded in part from the Board of Education's Capital Improvement account and in part from the Borough's Capital account.
"By combining our resources, we were able to move forward with these much needed improvements," said Council President Dennis DiMascio.
Board of Education President Marty Murray said "The scheduled improvements to the stadium are long overdue. The Board of Education working with Mayor Reiman and Borough Council are giving the students a safe, state of the art facility they will be able to use for multiple sports and events for years to come."
Also included in Phase I was security fencing installation, utility upgrades, lighting upgrades and site improvements. Phase 2 of the project will provide improvements to the stadium structure, including planned ADA-compliant restrooms and other modern facility upgrades. Phase 2 design will start in 2019 and could be completed by 2020, with financing permitting.
"This is a great example of local shared service with both agencies working together to identify and address issues that are of concern. It is a win-win when you can combine resources and add value to the community," concluded Mayor Reiman. "I commend the Council and the Board of Education on this partnership and I look forward to finding ways to work together for the benefit of our children in the future."