Carteret, NJ– The Borough of Carteret Police Department welcomed its new civilian Police Director, Kenneth Lebrato Esq., at a swearing in ceremony conducted by Mayor Daniel J. Reiman on Monday, November 27, 2017 at the Memorial Municipal Building.  The ceremony was attended by members of the Borough Council and rank and file members of the Carteret Police Department, as well as members of the public.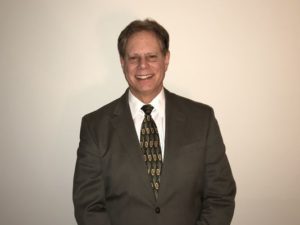 Introducing the new Police Director, Mayor Reiman noted, "Ken has had a long and distinguished career in the field of criminal justice that spans 37 years.  He served as an assistant prosecutor with the Middlesex County Prosecutor's Office where he headed up that office's Guns, Gangs and Drugs Task Force.  He also has experience with Carteret and the police department having served as the Borough's Chief Municipal Prosecutor.  It is that type of experience with law enforcement as well as having served as Deputy County Counsel for Middlesex County that will allow him to succeed in this position and improve the department."
Councilwoman Susan Naples, the Borough's police commissioner, also believes that Mr. Lebrato's experience will prove an asset in his dealings with the department.  "A significant number of our officers have already worked with Ken.  They know how knowledgeable he is in the criminal justice system.  The trust that he has already built up will go a long way as he works to move the department forward."
As Civilian Police Director, Mr. Lebrato's will work with Chief McFadden in administering the department. He will set departmental policy, oversee personnel matters, define budgetary priorities and act as a liaison between the administration and the police.
Lebrato's hiring came after an extensive search which included advertising in national periodicals in which the Borough received applications from across the country.  Ultimately, according to Mayor Reiman, that search led the Borough to the conclusion that Lebrato was the best fit.
"In the end, Ken's personal knowledge of the Department and the Borough coupled with his knowledge of the challenges presented by today's law enforcement environment made it clear that he was our guy.  I am certain that his addition to our team will help to make the Carteret Police Department even stronger."
In accepting the position the new Director stated, "I am excited to be back with Carteret and for the opportunity to once again work with the officers of the Carteret Police Department.  I look forward to using the knowledge that I have gained over the course of my career to help the department operate more efficiently."
Lebrato said that one of his priorities as director would be to institute polices aimed at fostering a strong relationship between the police and the community.  "I know that one of the most important factors in successful policing is having the trust of the community.  To that end, I am going to pursue policies that enhance that trust."