CARTERET, NJ – Mayor Daniel J. Reiman has announced the Ribbon Cutting and Grand Opening of the URSB Carteret Performing Arts & Events Center (CPAC), 46 Washington Avenue, featuring Carteret's own NJ Hall of Famers The Smithereens on Saturday, December 4th, 2021.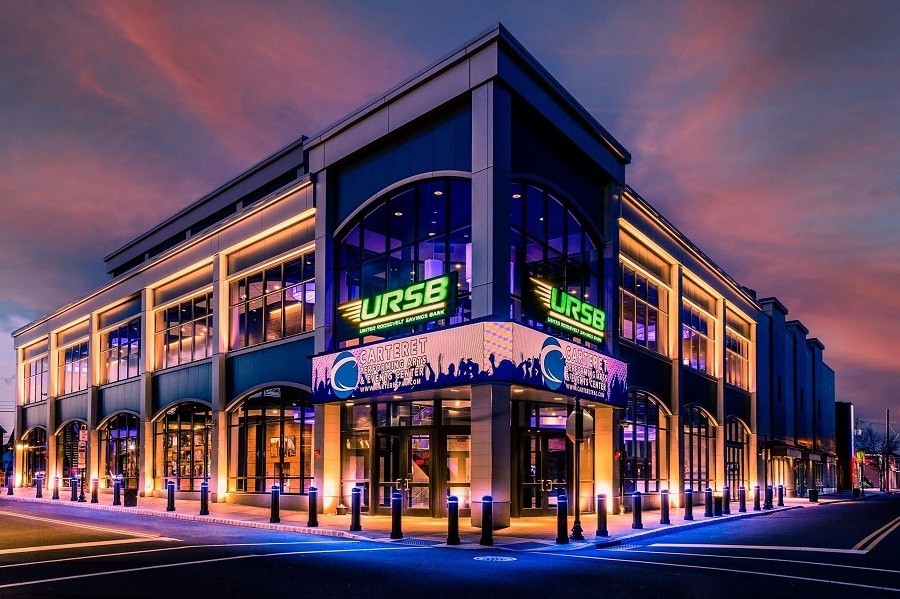 "We are excited to officially open the Carteret Performing Arts & Events Center – a vision we shared and began to develop conceptually over a decade ago," said Mayor Dan Reiman. "This is a one-of-a-kind venue that can transform itself from a seated concert hall to an indoor sports arena, to a center for culinary arts festivals, educational programming for area youth, a convention hall, and so much more."
The festivities will begin at 12 pm, with dignitaries joining Mayor Dan Reiman to cut the ceremonial ribbon at CPAC, followed by a public tour of the venue from 12:30 pm – 1:30 pm.
The featured act for CPAC's Grand Opening is The Smithereens at 8 pm. Founded in New Jersey in 1980, The Smithereens have been creating electrifying, original Rock N Roll for 41 years. They were inducted into the New Jersey Hall of Fame in the Class of 2018. All surviving members of the group – Jim Babjak (guitar), Dennis Diken (drums), and Mike Mesaros (bass) grew up together in Carteret. Lead singer, the late Pat DiNizio, who died in 2017, hailed from Scotch Plains.
Doors will open to the public at 7:30 pm. Tickets are still available at CarteretPAC.com.
CPAC is a 55,000 sq ft state-of-the-art theater and event venue located in the new Carteret Arts District at the site of the former Vaudeville Era Ritz Theater.
CPAC features a 1,650-seat flexible meeting and performance space, a 300-seat black box theater, a 5,000 sq ft art gallery, and a rooftop space that accommodates up to 250 people.
The venue was developed in partnership with the Carteret Business Partnership – a public/private partnership created by municipal ordinance to foster the business environment and economic development in Carteret.
CPAC will host live performances, Broadway shows, concerts, smaller sporting events, trade shows, meetings and social events.
The venue was partially funded through grants – $2 million from the state of NJ, $6 million through a Middlesex County public arts initiative, private donors, land sales, settlements with polluters, and donations from corporate entities, including Amazon, Crow Holdings, and United Roosevelt Savings Bank, which donated $1 million for 10 year naming rights of the venue. Additional funds came from the Borough of Carteret capital account, redevelopment initiatives, and Carteret Business Partnership funds.
CPAC will sustain itself through mindful and consistent programming, membership campaigns, grant funding, and corporate partnerships.
CPAC is a large part of the cultural renaissance within Middlesex County, especially here in Carteret, and throughout New Jersey. Carteret is quickly becoming one of the most desired locations for New Jersey residents to call home. New residential and commercial opportunities, combined with Carteret's upcoming ferry service, this beautiful Performing Arts and Events Center, upgraded parks, stable tax rates, and tremendous diversity solidify Carteret as a great place to live, work, and raise a family.
For more information on the URSB Carteret Performing Arts and Events Center or for tickets, visit CarteretPAC.com.