CARTERET, NJ – Mayor Daniel J. Reiman today announced Carteret's Black History Month Film Series at the Carteret Performing Arts & Events Center on Saturdays throughout February.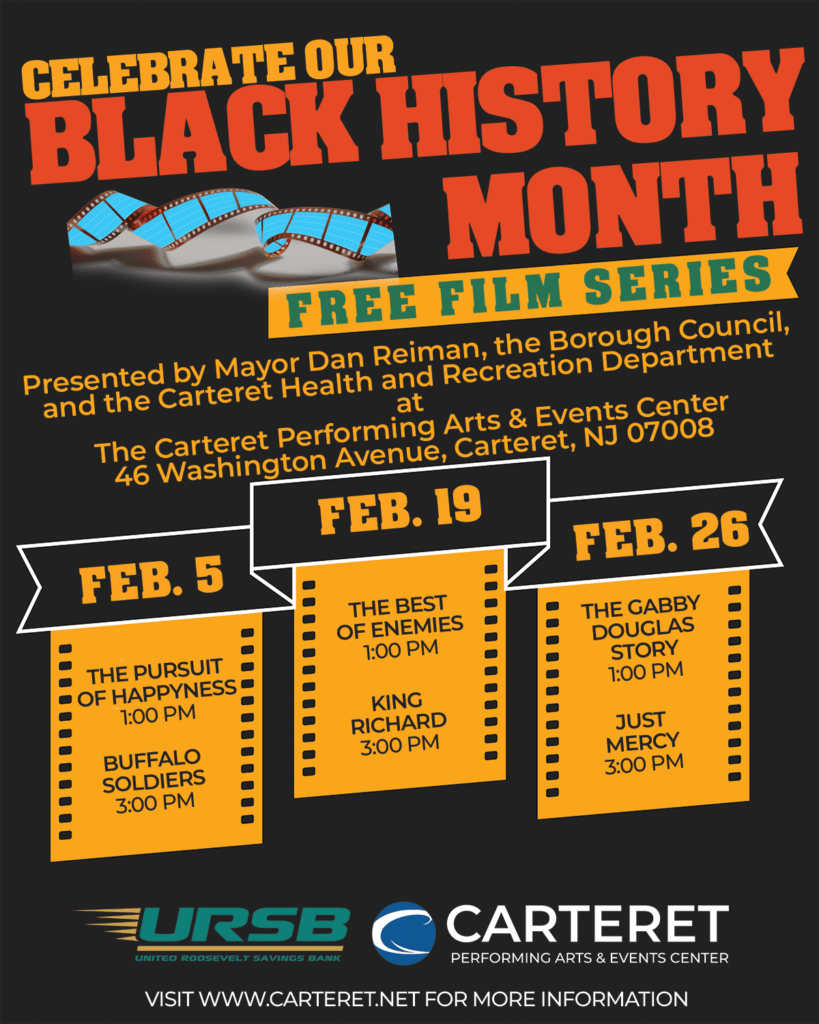 "Black History is American History and Carteret is proud to celebrate the contributions, history, and culture of African Americans year round," said Mayor Dan Reiman. "This FREE film series is a great chance for families to celebrate Black History and check out the brand new Carteret Performing Arts & Events Center."
The Film Series will display films featuring African American history and black actors in prominent roles. Two films will be displayed at the brand new 1,600 seat Carteret Performing Arts & Events Center on Saturday, February 5th including The Pursuit of Happyness, a biographical film starring Will Smith as Chris Gardner, a homeless salesman who went on to form a multi-million dollar brokerage firm, at 1 pm; and Buffalo Soldiers at 3 pm, which tells the story of African American soldiers who served on the Western frontier following the American Civil War.
Saturday, February 19th will feature The Best of Enemies at 1 pm, which focuses on the rivalry between civil rights activist Ann Atwater and Ku Klux Klan leader C. P. Ellis; and King Richard at 3 pm, the true story of Richard Williams, the father of Venus and Serena Williams, who famously led his daughters to become tennis superstars.
Carteret's FREE Black History Film Series wraps up on Saturday, February 26th with The Gabby Douglas Story, about the gold medal winning African American gymnast, at 1 pm; and Just Mercy, based on the life work of Civil Rights Attorney Bryan Stevenson, at 3 pm.
All films in the series are free and family friendly. You do not need to be a Carteret resident to attend.
For more information about all events Carteret has to offer for Black History Month and throughout the year, visit Carteret.net or follow @MyCarteret on all popular social media platforms.
To see upcoming shows and events at the Carteret Performing Arts & Events Center visit CarteretPAC.com.