CARTERET, NJ – Mayor Daniel J. Reiman joined Congressman Frank Pallone, Jr. (NJ-06) to announce today that Carteret will receive $6 million from the Department of Transportation (DOT) to build a passenger ferry terminal. The terminal is part of Carteret's efforts to run a ferry from central New Jersey to downtown Manhattan.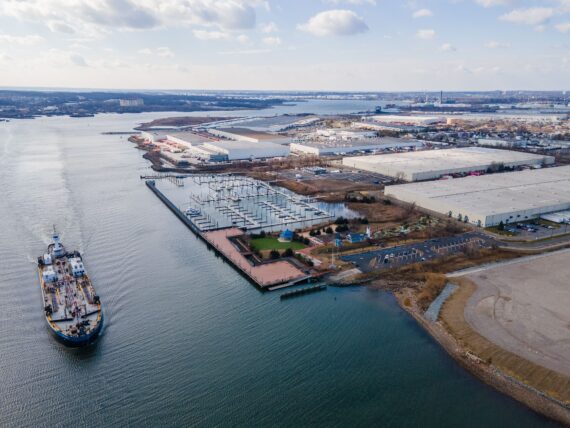 "This is great news for New Jersey residents and tourists who commute to downtown Manhattan. This funding will help improve efficient and reliable transportation options and help reduce vehicle traffic," Pallone said. "The new passenger terminal will also foster economic development in Carteret. I'll continue to work hand-in-hand with Mayor Dan Reiman to fight for the funding needed to fully complete this project."
When completed, the Carteret Intermodal Transportation Center will feature a three-story ferry terminal and will be equipped with a waiting area, restrooms, food court/snack bar, operations center, meeting space, and a public rooftop observation deck. The Center is planned to be adjacent to other public facilities and open space on the Borough's waterfront. This location will seamlessly connect pedestrian and bike paths, personal vehicles, and NJ Transit buses with a ferry service connecting commuters and tourists to New York City.
"The ferry terminal building is an important next step in our efforts to provide environmentally friendly transportation service for commuters within Carteret and throughout Central New Jersey," said Mayor Reiman. "We are grateful to our federal partners who continue to recognize the importance of the Carteret Ferry Project. In particular, the efforts of Congressman Pallone were instrumental in the passage of the infrastructure bill."
The funding will be distributed through the DOT Passenger Ferry Grant Program, which funds capital projects that help eligible project sponsors support existing passenger ferry service, establish new ferry service, and upgrade ferry boats, terminals, and related facilities and equipment.
While this grant secures partial funding for the Ferry Terminal, Reiman noted "The Borough is hoping to obtain additional support for the project from federal funds allocated to the NJDOT under the Bipartisan Infrastructure Law for ferry-related purposes. We look forward to expanding our ongoing partnership with the state of NJ in our efforts to advance the project."
For additional information on the Carteret Ferry Terminal, visit Carteret.net.