Third council term begins with focus
on infrastructure, redevelopment and opportunities for youth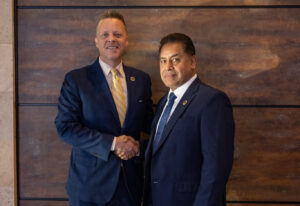 CARTERET, NJ – Since first elected to Borough Council in 2016, AJ Johal, 52, has worked hard for the community.
That hard work paid off when he recently was named the Borough's first Asian Indian-American council president.
"It is a great honor to serve as the first-ever Sikh-Punjabi council president in Carteret," Council President Johal said. "Throughout my tenure as councilman, it has always been my philosophy to work hard and serve the community, and this new position allows me to continue this. Being proud of my heritage allows me to be an example for the future generations as to what is possible to achieve."
Prior to his new position, Johal had been elected the Borough's first Asian Indian-American member of the council, as well as its first Asian Indian-American board of education member. He said that experience prepared him to be council president.
Johal's long history in the Borough has seen him rise from Middlesex County vocational student and gas station attendant to the owner of several gas stations, including two Race Stars in Carteret, as well as several other properties.
"I have fulfilled the American Dream through hard work, humility, determination, and never giving up," the Council President said. "Starting from nothing in this country was a tough process, but I believed in the dream and continued to chase it. The American Dream is an ever-evolving idea, and I continue to work with the same passion that I initially had in pursuing it, to help better my town and community."
As council president, Johal said one of his greatest priorities is to create similar opportunities for the youth of Carteret by working with community leaders and members to foster creative ideas into effective projects.
Believing in youth is an important part of creating a better tomorrow, the Council President said.
"Investing in their education, recreation and well-being are top priorities," he said. "As council president, my goals for the community also include continued progress to a better Carteret through development and investment in the members of our community, providing resources and enhancing borough infrastructure. I have spent the majority of my life in Carteret and am dedicated to making it a better place for all of our residents."
Council President Johal said he is excited about the many waterfront and downtown redevelopment projects that are ongoing or planned for the future because they will provide jobs, other opportunities and innovations to a burgeoning Borough enjoying a cultural and economic renaissance. They include:
A forthcoming ferry, its terminal and state-of-the-art Carteret Intermodal Transportation Building
The $1 billion Carteret Stages film production studio featuring a hotel, restaurants, retail, office space, and a parking garage
A continually expanding Riverwalk within and surrounding Carteret Waterfront Park, Veterans Pier and the marina
Several downtown mixed-use properties to add to the success of 29 Washington and The Botanic.
The council president said that what he enjoys most about working with Mayor Daniel J. Reiman and fellow council members is the shared vision and bond they have formed over the years.
"We all work together closely and collaboratively in order to help create a better town and environment for our community," he said.
That wouldn't be possible for him, he said, without the loving support of Jasleen, his wife of 30 years, and their two grown children, both of whom are medical doctors.
Their encouragement and confidence in him is invaluable, he said.
"They step up and take on responsibilities because they believe in our mission to help serve the community," the Council President said.
He added that he appreciates Carteret's rich cultural diversity. The Borough is the most diverse community in Central Jersey and third most in the state.
Because of its "melting pot," the Borough is a very desirable place for individuals of all cultures and backgrounds, the Council President said.
"We work hard to support people of all backgrounds," Johal said.
That diversity is reflected on the council, Mayor Reiman said.
The Mayor said he is confident that the new Council President will accomplish a great many things.
"Carteret is a better place with people like AJ Johal working hard for it," Mayor Reiman said. "I wish him all the best and know the Borough is in good hands with him as council president. He serves as an excellent example of how success can be achieved and used for good."
Updates about Carteret are available at Carteret.net or by following @MyCarteret on Facebook, Instagram, and Twitter.