Carteret, NJ – Mayor Daniel J. Reiman and the Borough of Carteret hosted their annual Charity Carnival over the weekend to benefit The Charity Trust Fund.
The Carnival, attended by well over 15,000 residents and visitors, began Thursday with rides, games, traditional Carnival food, local vendors, and Beginnings, a Chicago Tribute Band, who performed such hits as Saturday in the Park and If You Leave Me Now, to a few hundred relaxed listeners and dancing couples alike. Friday at the Carnival featured a showing of the popular superhero movie Black Panther and Experiment 34, whose music is inspired by groups like the Red Hot Chilli Peppers and Tom Petty, rocked the crowd and gained the band new fans for years to come.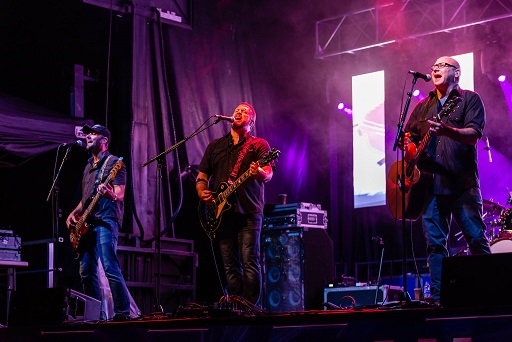 Saturday at the Charity Carnival was Ethnic Day, the 42nd annual celebration of Carteret's community diversity. Carteret is the 4th-most diverse municipality in New Jersey with a population that is 33% Hispanic, 21% Asian, 14% Black and 32% White. Food vendors representing over a dozen countries showcased their best recipes and the day was capped off by a special performance by the popular band Sister Hazel, which has toured together for over 20 years and reached #1 on the Billboard Charts with their hit All for You. According to the band, this was their first New Jersey show in a while, and were happy to be back, much to the delight of their loyal fans – "The Hazelnuts." A video of the band's performance is available on Carteret.net and the Borough's public access cable television station, TV 36, on Comcast.
Sunday, the final day of the Charity Carnival, featured the 16th Annual Carteret Car Show. Classic rides, including motorcycles, dazzled crowds and there were awards given for Best of Show and runners-up. The Borough was lucky to enjoy beautiful weather for the car show and the other days of the Carnival. However, those in the Carolinas recently experienced the devastating and fatal effects of Hurricane Florence. Mayor Reiman has announced that the Children's Charity Trust Fund will be donating a portion of proceeds and supplies to the victims of Hurricane Florence.
"The Children's Charity Trust Fund realizes the important of helping our neighbors in their greatest times of need, as other communities assisted Carteret after Superstorm Sandy," said Mayor Reiman. "Just as the Charity assisted Puerto Rico after the devastating hurricanes they experienced last year, we will also do all we can to help the Carolinas recover from Florence."
To see pictures from the Charity Carnival or to read more about the Children's Charity Trust Fund, please visit Carteret.net.