Carteret, NJ – Mayor Daniel J. Reiman's Charity Carnival is set to return to the Borough from Thursday, September 13th through Sunday, September 16th at Carteret Park. The Carnival will feature rides, games, local vendors, and traditional Carnival fare. Proceeds will benefit the Children's Charity Trust Fund, a non-profit 501(c)3 charitable organization, established to provide Carteret residents with a monetary resource for education, athletics, and health among many other charitable causes. In 2003, Mayor Reiman recognized that the Borough's younger residents often lack the finances needed to achieve their own goals. The Trust Fund was created with the knowledge that these children are often high achievers with great potential, and who, with the proper financial support, could continue along their own paths to success.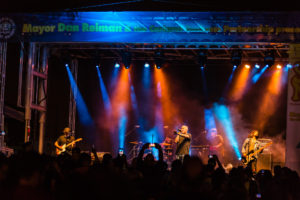 "The Charity Carnival is a long-standing tradition here in Carteret," said Mayor Reiman. "With the Summer coming to an end and the children returning to school, the Carnival is a great way to mark the end of the season as a community and raise money for a great cause."
Thursday, September 13th, is Bracelet Night, with unlimited rides available from 6-11 pm with the purchase of a bracelet. Note that age and height restrictions apply on certain rides. Thursday will also feature live music from Beginnings, a Chicago Tribute Band, from 6-8 pm, and a DJ until 10 pm.
Friday, September 14th, is our second bracelet night, in addition to being Movie Night with Black Panther on our big screen at 8:30 pm. Experiment 34 will perform live at 7 pm and DJ Nyght Vision will play the latest hits from 9-11 pm.
Saturday, September 15th is Carteret's 44th Annual Ethnic Day, which celebrates food from countries and cultures around the world, including India, Puerto Rico, Poland, Pakistan, the Philippines, Brazil, and many others. The day will be capped off with a performance by the Mel Miller Band – A tribute to the Queen of Soul Aretha Franklin at 5:30 pm and a special performance at 8:30 pm by Sister Hazel, whose hit "All for You" reached #1 on the Billboard charts.
The final day of the Carnival, Sunday, September 16th, is our Charity Car Show from 9-11 am. Rides and games will be featured all day, with DJ Jukebox Jimmy from 9 am – 2pm and cover band Party of Five at 2 pm.
For more information about the Charity Carnival, Ethnic Day, or any other Carteret events, please visit Carteret.net or call 732-541-3801.