Carteret, NJ
 – The Carteret Gay-Straight Alliance is proud to host the "LGBTQ on the Ave" Community Group Kick-off Event on Friday, October 26, 7:00 pm at the Blazing Star Cultural Arts Center. "The Ave" refers to Carteret Avenue, where the Blazing Star is located. The event, sponsored by Mayor Daniel J. Reiman and the Carteret Borough Council, will feature special guest speakers – former New Jersey Governor Jim McGreevey and Hudson County Prosecutor's Office Detective Megan Larsen.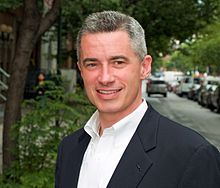 "We are proud to welcome Governor McGreevey to our inaugural GSA event here in Carteret," said GSA President Adrian Vega. "The Governor's courage and leadership helped pave the way for strides the LGBTQ community has made in the last few years, including Marriage Equality in New Jersey."
Governor McGreevey made history in 2004 when he became the nation's first openly gay governor, and he has received numerous awards for his work in the LGBTQ community and for gay rights.
There is no charge to attend the event and all are welcome. Refreshments will be served.
Earlier this year, Mayor Reiman hosted the Borough's 2nd Pride Flag Raising event at Carteret Borough Hall in honor of Pride Month in June. The Borough's efforts to recognize its diverse population also includes flag raisings which honor different countries throughout the year, Ethnic Day in August, Latin Fest in July, and Sikh holiday Nagar Kirtan in June.
"Carteret is one of the most diverse communities in the State," said Mayor Reiman. "We celebrate our melting pot with regular events that reflect the cultures of our residents."
For more information about the event, email 
[email protected]
 or call (732) 541-3879.