Carteret, NJ – Mayor Daniel J. Reiman was joined by New Jersey State Assembly Speaker Craig Coughlin, New Jersey State Senator Joseph Vitale, and New Jersey Assemblywoman Yvonnne Lopez to announce a $1 million state grant toward construction of the Carteret Performing Arts and Event Center (CPAC).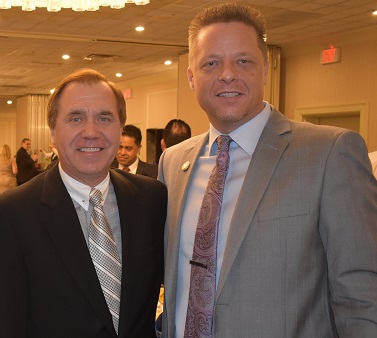 "Mayor Reiman's commitment to the arts and dedication to providing quality entertainment here in Carteret has earned the state's support of the Carteret Performing Arts Center," said Speaker Coughlin. "New Jersey is proud to devote $1 million toward the project."
CPAC will include a 500-seat black box theater, a 1,600 plus seat main auditorium and a 5,000-square-foot art gallery, as well as a rooftop space which will have the room to host around 200 people. The arts center will be operated by Spectra Venue Management, whose other clients include the Wells Fargo Center in Philadelphia and the Atlantic City Convention Center.
The theater is owned by the Borough and is being developed in partnership with the Carteret Business Partnership (CBP), a non-profit economic development corporation supported by members including Amazon, Dr. Pepper/Snapple, Verizon, Goldman Sachs, A. Duie Pyle, Graybar, Fedex Ground, Kinder Morgan, Berje, TJX HomeGoods, and Nu World Cosmetics amongst hundreds of other member companies.  The Arts Center (CPAC) will also be funded in part by a $6 million grant from the Middlesex County Cultural Arts Trust Fund, which the Borough received in 2015.
Senator Vitale said "It's a terrific day. I've had the honor of representing Carteret for 20 years and to see the work that Mayor Reiman and the Borough Council have done over all these years –  the thoughtfulness, the planning, the hard work, all those decisions they made, all the things that have happened in Carteret doesn't just happen by accident, doesn't happen by just showing up. It happens by hard work and really being diligent and caring about their community." Senator Vitale added "Mayor Reiman was born and raised here and cares about this town. Everyone that works here shares the same mission. From this hole in the ground will come a beautiful facility and I look forward to attending opening night."
"Our arts center will be the premiere entertainment venue in the region," said Mayor Dan Reiman. "We expect construction of the theater and our upcoming Carteret Arts District to be completed and open towards the end of 2020. The arts center and the ongoing surrounding private investment in the arts district will help revitalize our downtown and give a boost to our already thriving community. This will be a regional destination that will attract visitors and the arts. I'd like to thank Gov. Murphy, Speaker Coughlin and our legislative delegation for securing this funding."
"Carteret is a community that continues to get better year after year," said Assemblywoman Lopez. Under the leadership of Mayor Reiman the Carteret community will now get the opportunity to enjoy the arts in a state of the art facility. The Carteret Performing Arts and Events Center will undoubtedly be a crowning jewel in Middlesex County and I look forward to attending the amazing productions that will take place there."
To find out more about the Carteret Performing Arts and Event Center, please visit Carteret.net or call 732-541-3835.