Central Jersey liaison Kathy Guzman will present program
on how small businesses can apply for grants and loans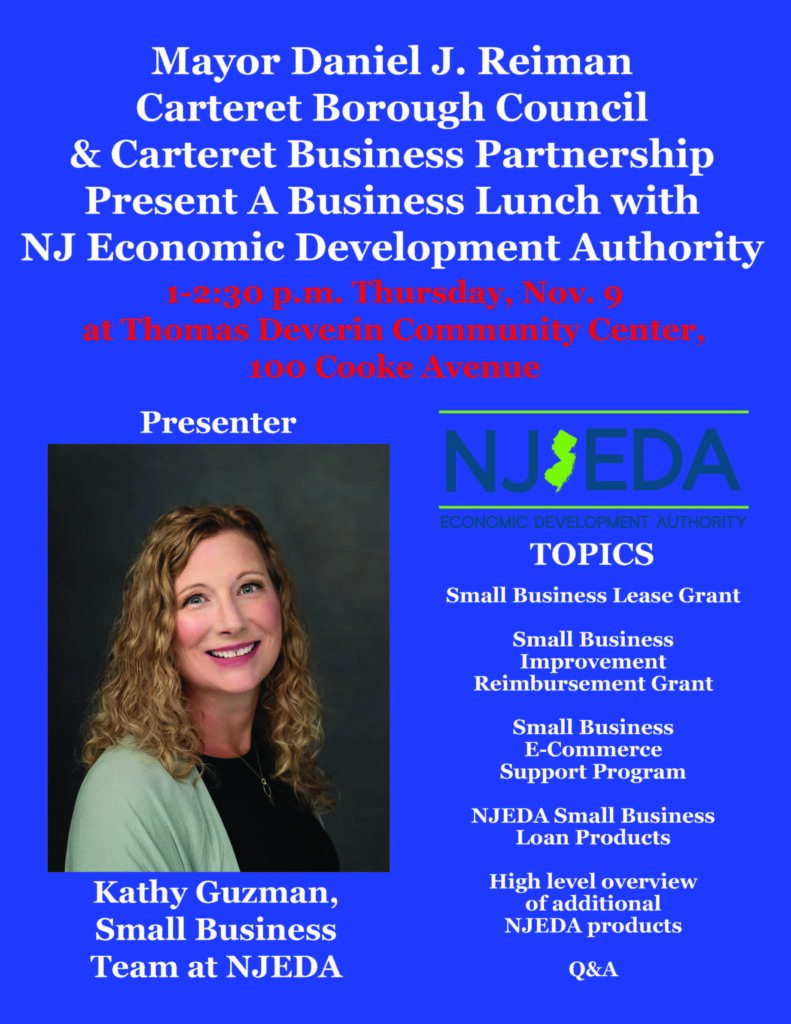 CARTERET, NJ – The most business-friendly town in New Jersey once again will host the state Economic Development Authority at a small business lunch on Nov. 9 at the Borough's Community Center, 100 Cooke Ave.
Having made a small business presentation on Oct. 27, Kathy Guzman, NJEDA's Senior Small Business Liaison for Central Jersey, will return to detail the agency's grants, loans, incentives and other programs, as well as follow up with attendees of the first event who may have questions.
"Carteret is the most business-friendly town in New Jersey," Mayor Daniel J. Reiman said. "We greatly appreciate NJEDA coming here to help making doing business in Carteret even better."
Some of the programs Guzman will discuss include:
Small Business Fund – New Jersey businesses in operation for one year and nonprofits in operation for three years with revenue of less than $3 million may be eligible for funding up to $500,000 with interest rates based on a five-year treasury rate
Direct Loans – New Jersey businesses in operation for two years, committed to job creation and retention, may be eligible for direct loans of up to $2 million through the NJEDA when conventional financing is not available
Premier Lending Program – NJEDA partners with banks to ensure that owner-occupied NJ businesses have the resources necessary to expand and grow with funding up to $2 million with flexible terms and interest rates
Small Business Improvement Grant – reimburses New Jersey business owners for costs associated with making interior and/or exterior building improvements and/or purchasing and installing new furniture, fixtures and/or equipment up to $50,000
Small Business Lease Grant – offsets a portion of rent for businesses leasing new or additional space by paying 20 percent of first two years of lease
Small Business E-Commerce Support Program – provides free e-commerce and digital marketing consulting services valued at $11,400 to small businesses in the restaurant, retail and personal care industries that operate from a commercial location in New Jersey.
"I have an interest in contributing to the growth and success of small business in order to strengthen the communities they serve," Guzman said. "I'm glad to see that Carteret focuses on community and economic development."
Courtesy of the Carteret Business Partnership, lunch will include grilled vegetable sandwiches and humus from ShopRite of Carteret and freshly baked pita from the Borough's own Angel Bakeries. Both businesses are participants in the Urban Enterprise Zone of Carteret, one of 32 municipalities chosen by the state Department of Community Affairs to offer tax incentives to their participating businesses, as well as, in most cases, their customers, in an effort to create jobs.
To RSVP for the NJEDA small business lunch, contact the Carteret Economic and Community Development Office at 732-541-3935 or [email protected].
Updates about the NJEDA presentation will be available at Carteret.net or by following @MyCarteret on Facebook, Instagram, and Twitter.