Carteret, NJ – Mayor Daniel J. Reiman, the Carteret Police Department, and Keep Middlesex Moving are offering a free Community Bike Safety Workshop on Wednesday, July 10th. The workshop will be presented at both 4 pm and 6 pm at the Thomas Deverin Community Center, located within the Carteret Public Library at 100 Cooke Avenue. Each participant will receive a free bicycle helmet and valuable information on bike safety.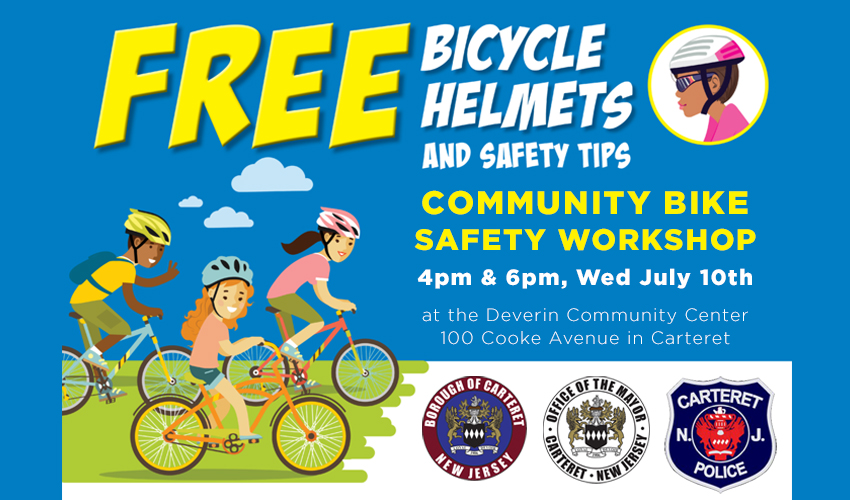 "Many children in Carteret get around on bicycles," said Mayor Reiman. "Naturally, it's important for our kids to know how to safely share our roadways with motorists and be equipped with helmets to prevent avoidable injuries."
The number of bicycle incident deaths increased 29% from 793 in 2010 to 1,024 in 2017, according to the National Safety Council. Of the 1,024 bicyclist deaths in 2017, 679 involved motor vehicles.
Cyclists are encouraged to practice the following safety tips to avoid injury:
Get acquainted with traffic laws; bicyclists must follow the same rules as motorists
Ride single-file in the direction of traffic
Remain alert, keep your head up and look around; watch for opening car doors and other hazards
Use hand signals when turning and use extra care at intersections
Never hitch onto cars
Before entering traffic, stop and look left, right, left again and over your shoulder
For more information on bicycle safety or about the Bike Safety Workshop, please visit Carteret.net.