Carteret, NJ – Mayor Daniel J. Reiman was joined by Governor Phil Murphy, Congressman Frank Pallone, Speaker Craig Coughlin,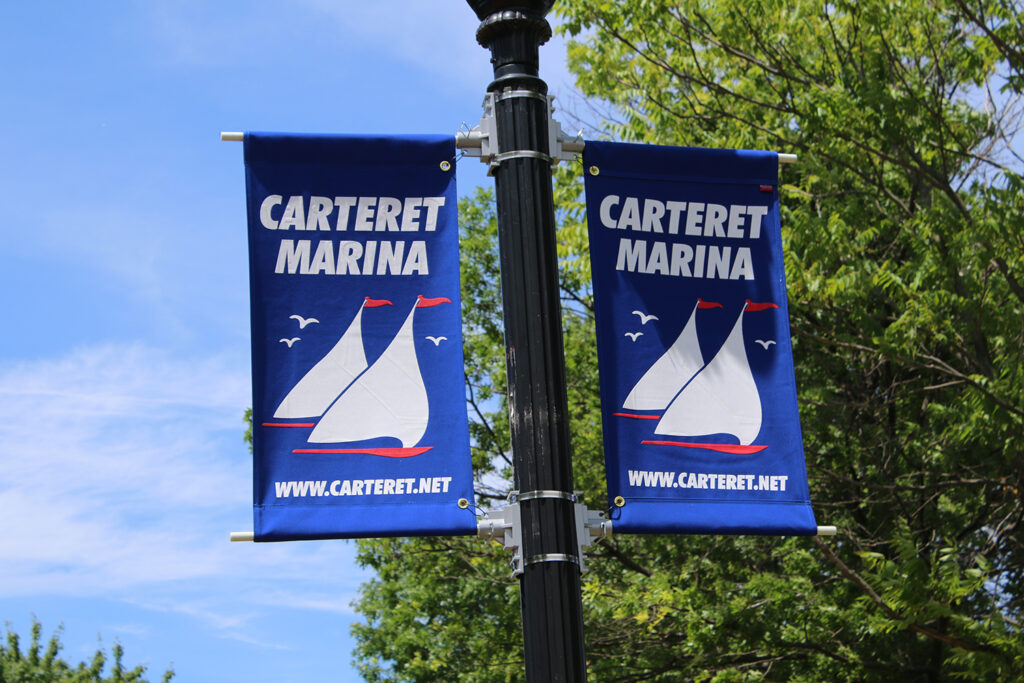 Freeholder Director Ron Rios, and other dignitaries on Saturday June 15th to cut the ribbon at Carteret's new Municipal Marina, marking the official Grand Opening of the waterfront amenity.
The free public event at Carteret's Waterfront Park featured food, live music and giveaways to commemorate the opening of the 185-slip Marina, which began hosting boaters in April.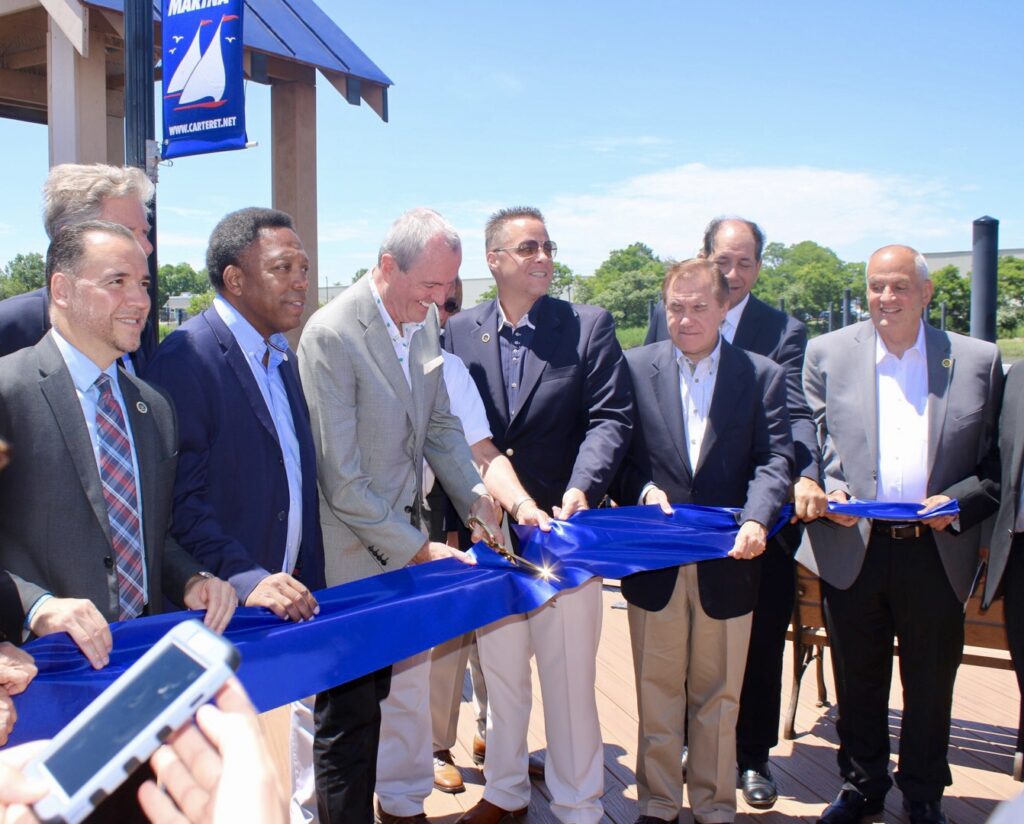 "Carteret is proud to offer this beautiful new marina along the Arthur Kill River, an important waterway with quick access to Manhattan and the Raritan Bay," said Mayor Reiman. "Carteret has come a long way, with over $1 billion in private economic growth in these past 10 years and over $100 million invested in our Waterfront, thanks to the partnership we have built with the local, state, and federal government."
The Carteret Municipal Marina features 38,000 square feet of floating docks, gas and diesel fueling stations, sanitary pump out, and a 17-foot draft. To protect boats from the effects of water displacement and wave action while docked, the Borough has included a 700-foot wave screen breakwater and a 265-foot floating wave attenuator in the Marina. Slips are offered at the lowest price in the region along the river, at $110 per foot.
Carteret residents are offered an even lower rate at $95 per foot. Slips contracts and registration are available at Carteret.net/Marina, for seasonal, annual, or monthly rentals.
The idea of building a Marina in Carteret was first proposed by Mayor Reiman in the early 2000's. Initial permits in 2005 and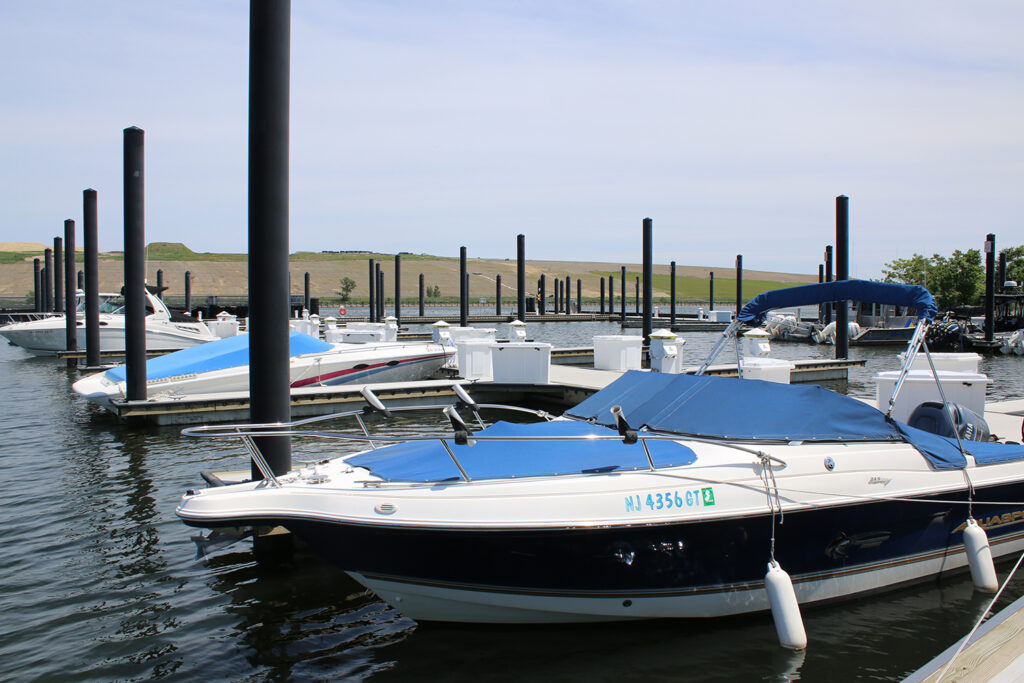 2013 to build the Marina were denied by the Army Corps of Engineers. Thanks to persistence by Mayor Reiman's administration, the permits were finally granted by the New Jersey Department of Environmental Protection and the Army Corps upon appeal in 2015. Due to the Borough's aggressive approach to grant-seeking, the Marina was funded through a combination of federal, state, and county funds that were awarded over a period of several years. Brownfield Development Area funding assisted with the cost of remediating and dredging 130,000 cubic yards of material that made way for the Marina.
"It's proof that it takes a village," said Governor Phil Murphy. "This Marina shows what can be done when all of us, across all levels of government, work together for the betterment of our communities."
The Marina was fully funded through $42 million in local, state, and federal grants, lawsuits, and settlements with chemical companies. Carteret's Waterfront is now home to the Municipal Marina, Veterans Pier, which will soon stretch to 1.5 miles of public walkway, a public park, and will soon feature a Ferry terminal with service to Manhattan and a Waterfront Events Center. In addition, the State Police Marina Unit relocated from Newark Bay to the Carteret waterfront in 2014, when they constructed a 4,400 square foot barracks at the site.
The area was, at one point, home to the largest Mahogany plant in the world. Ichabad T. Williams & Sons (IT Williams) opened in 1838 in New York City and eventually relocated to Carteret. They acquired 70 acres of land on the Waterfront, from Bethlehem Steel Corporation, which gave them 1,300 feet of frontage with the Arthur Kill and allowed them to create a cove for the wood being unloaded from vessels around the world.
To learn more about the history of the Carteret waterfront or the Carteret Municipal Marina, visit Carteret.net.