Carteret, NJ – Mayor Daniel J. Reiman and the Carteret Business Partnership have announced the start of the second training class of Carteret's Technical Institute (CTI). Over 45 Carteret residents expressed interest in the scholarship-funded, state-of-the-art program, of which 12 candidates were selected.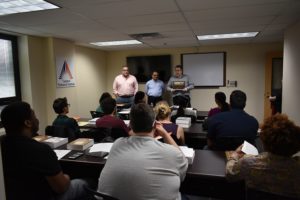 CTI provides a three month, 150-hour intensive training on information technology related to CompTIA A+ and Microsoft Certified Solutions Associate (MCSA) certifications.  Students meet three times a week in a computer lab setting with several review sessions beginning Thursday, May 3rd, 2018.
"CTI is a partnership between the Borough, the Carteret Business Partnership, and the Carteret Library," said Mayor Reiman. "CTI represents our commitment to offering expanded educational training opportunities for Carteret's adult residents."
Graduates of CTI's inaugural class have found jobs with local businesses and even with the Borough.
"CTI provides the finest technological training available," said Borough IT Director Laurent Mevs. "Our program's 150 hours of intensive training prepares students to obtain their A+ and MCSA certifications, which are highly sought after by employers."
The Borough is currently seeking to expand the program and offer trainings in additional technical skills.
"We are working with Mayor Reiman and professionals in the technology field to discover which skills are the most in demand," said Library Director Joseph Norris. "We look forward to providing opportunities to our residents that are unparalleled anywhere in the state."
More information about the CTI program can be found at www.carterettechnicalinstitute.org/.