CARTERET, NJ
 – Mayor Daniel J. 
Reiman
 joined NASDAQ President & CFO 
Adena
 Friedman
, Executive Vice President and Head of North American Markets at NASDAQ Tal Cohen,
Equinix
 President & CEO Charles Meyers, AWS General Manager Scott Mullins, NJ
 Congressman Josh 
Gottheimer
, Assembly Speaker Craig Coughlin, NJ Assemblywoman Yvonne Lopez, Director of the Middlesex County Board of Commissioners Ron Rios, 
Assemblyman Joseph Egan (D-17th), William Mullen, President of the NJ Building & Construction Trades Council, Kevin Duncan, head of the Middlesex County Building & Construction Trades Council, and John E. 
Hoey
, Jr., business agent for Plumbers & Pipefitters Union Local 9
 on the morning of Tuesday, May 3
rd
, 2022 for a ceremonial groundbreaking at NASDAQ's future 63,000 square foot addition to their existing data center, known as 
Equinix
 NY11, in Carteret.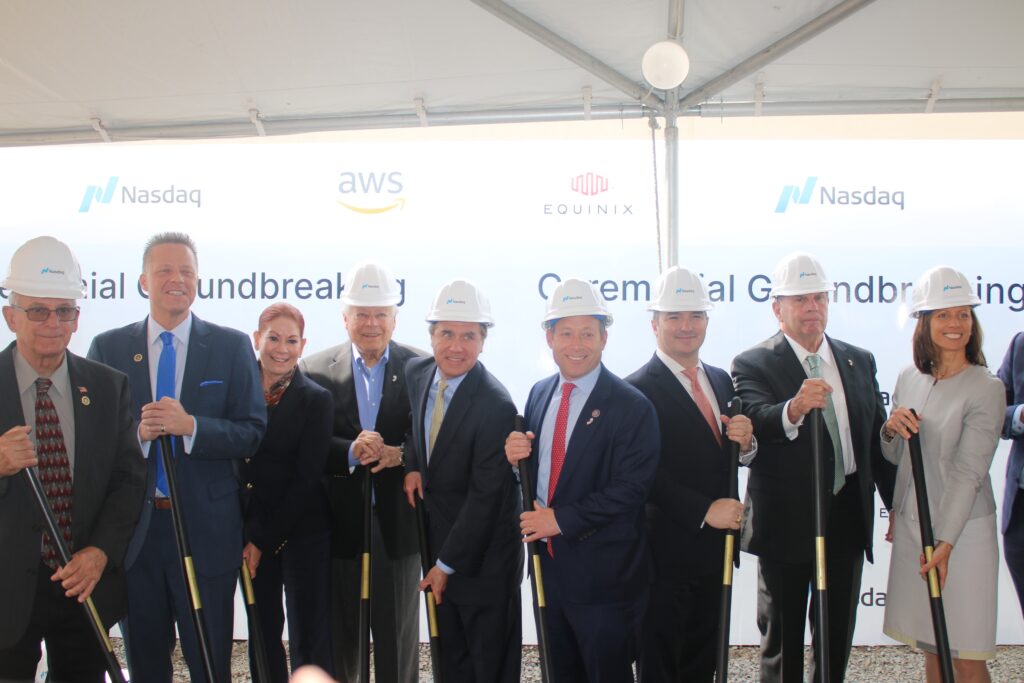 Estimated tax revenue from the building over the next 30 years is $13.5 million.
"
NASDAQ's existing presence and the approval of this 63,000 
sq
ft
 expansion 
stand as a symbol of the success of our vision and the public-private partnerships that have been the foundation of over $2.5 Billion in private development here in Carteret and the over $250 Million in public infrastructure investments that have helped lead the way to the rebirth of our older industrial zones and growth of our regional and national economy," said Mayor 
Reiman
. "This project has been a long time in the making; with the 
Equinix
 acquisition of 24 data centers in 2016, we welcomed then and now their partnership and shared vision for this site. The NASDAQ extension and today's expansion along with their AWS agreement reaffirm the commitment of these important financial sector partners."
NASDAQ has also contracted with Amazon Web Services (AWS) to host the company's cloud infrastructure at the expanded 
Equinix
 Inc. facility.
"Carteret is not just a center of gravity for Nasdaq's transaction services," Tal Cohen, executive vice president and head of North American markets at New York-based N
asdaq
, said in an interview with Bloomberg. "Now it's an ecosystem for capital markets that is more robust and resilient than what otherwise existed."
Carteret has become a hub for industry and finance with Goldman Sachs, Amazon, 
Fedex
,
Nu-World, P.C. Richards, 
Berjé
, and many other business leaders also calling the Borough home. Industrial properties in Carteret account for nearly 50% of the Borough's tax base, which relieves the tax burden on residents and allows for projects like the new Carteret Performing Arts and Events Center, the Municipal Marina, the currently under construction 2-mile Riverwalk, park improvements, infrastructure upgrades, and the upcoming Carteret Ferry Terminal.
"Today's groundbreaking solidifies our commitment to New Jersey," said NASDAQ President & CFO Adena Friedman. "Carteret will not only be the place for NASDAQ's trading services, it will also become the center of a more robust and resilient market than ever before for all participants."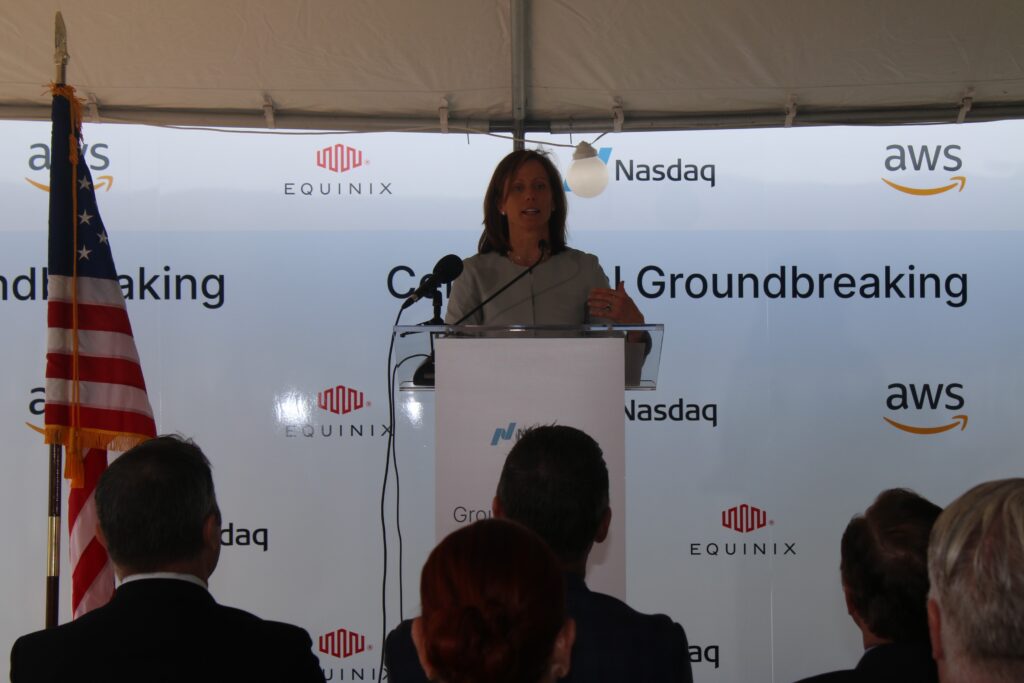 "I couldn't be more thrilled that the journey to the Cloud goes through Carteret," said NJ Assembly Speaker Craig Coughlin. "It's a testament to the accomplishments of Mayor Dan 
Reiman
. He rebuilt Washington Avenue, built a waterfront that is second to none, is building a Ferry Terminal to New York City, built a beautiful Municipal Marina, kept taxes down, and he has been at the heart of the renaissance in this community, and this is another step in this renaissance. To all our friends from NASDAQ, AWS, and 
Equinix
, thank you for coming to Carteret and for staying and committing to the growth of this community."
"My colleagues and I on the Board of County Commissioners are committed to cultivating a strong economy here in Middlesex County, and over the last decade we have focused on making strategic business decisions that improve the County's overall fiscal health," said Middlesex County Board of County Commissioners Ronald G. Rios. "I know that Mayor 
Reiman
 and the Carteret Borough Council share that commitment. Their support of NASDAQ's expanded data center underscores their ongoing pledge to foster long-term economic success here in Carteret, the County, and the entire region."
For more information on the upcoming projects and current amenities in Carteret, visit Carteret.net.