A Message from Carteret Mayor Daniel J. Reiman: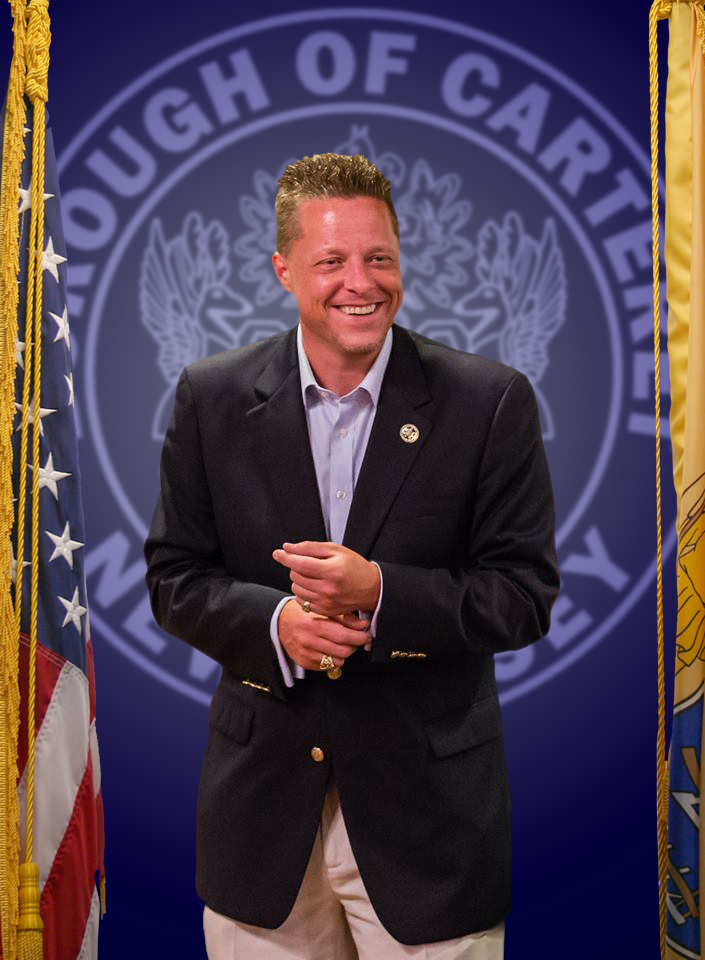 Friends,
I hope everyone is staying safe and following all recommendations for social distancing wearing a mask or other facial covering etc.
I wanted to take a moment to share some news about my condition with all of you.
As you may know, I was one of the over 75,000 New Jerseyans and near 1 million Americans who had tested positive for COVID-19.  In March, I began experiencing a one-day fever and joint pain.  I immediately consulted with my primary care doctor who prescribed Z-Pak as he suspected I was experiencing a seasonal upper respiratory condition or the flu.
After I found out I had been exposed to someone who may have had COVID-19, I went to the medical center to be tested and immediately began a self-quarantine. At the time of that examination I was asymptomatic, but the medical professionals recommended that I be tested for both the Flu and COVID-19 since I had been in contact with an individual with confirmed COVID-19 and I had previously experienced some mild symptoms.
As I indicated, I self-quarantined and followed all the recommendations set forth by the Center for Disease Control and medical professionals. I worked from my home office rather the then travel to Borough Hall or leave the house. I did so for over 20 days to be certain not to come into contact with anybody.
I am happy to let you know that I was recently retested and have a clean bill of health . I am thrilled to have beaten the COVID-19 virus and to finally be able to return to the office and drive around town.
During this time, the outpouring of well wishes and support was indeed overwhelming and is something that I will not forget.  Carteret is truly a great community and the level of care that our residents show to one another is inspiring.
It is in that spirit that I have reached out to several hospitals and offered to donate blood plasma which is needed to help those in much worse condition then me who are still dealing with this terrible virus.  I registered online and was called this morning to donate blood plasma in the coming weeks to help those who need antibodies and white cells present in my blood. I am looking forward to doing just that.
We all have an obligation to help each other and to replenish the critically low supply of blood. If you tested positive for COVID-19 and beat it, you may be eligible to donate blood plasma to help save lives. You can only donate plasma every 4 weeks, but one donation could potentially save as many as three lives.
You can register to donate plasma to local hospitals at the following links:
I think of our service personnel and our first responders who put their lives on the line each and every day and I pray for their safety.  I think of all those who are suffering with COVID-19 – both those diagnosed and those who suffer in silence and, most importantly, I think of all of you who make the sacrifices you are being asked to make for the greater good.
I read the papers and watch the news reports of the thousands who are in ICU/CCU on a ventilator and in dire need of help.  Together we can do something about it. While the doctors and scientists work to develop a vaccine you can help in stopping the spread by socially distancing, wearing a mask and regularly washing your hands, donating blood to the blood bank or plasma if you are a COVID-19 survivor, registering to be an organ donor and calling to check up on those in need whether they are family, friends, or neighbors.
Thank you to all who sent well wishes and reached out to me here on social media, on the phone, or through email. Your thoughts and prayers helped me get through this, now let's turn our attention to helping others.

Dan Reiman