CARTERET, NJ – Mayor Daniel J. Reiman will present an Earth Day Celebration on Saturday, April 23rd, 2022 from 10 am to 12 pm at Carteret's Civic Center Park on Pershing Avenue.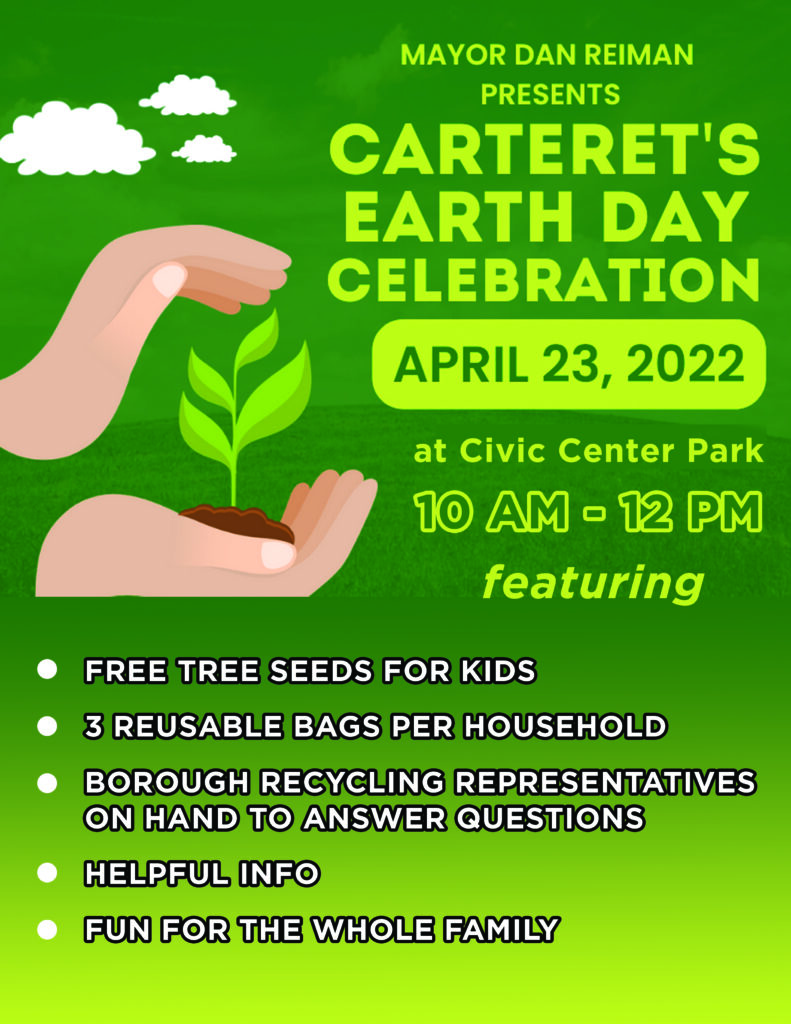 In response to the state's May 4th ban of single-use plastic bags, the event in Civic Center Park will include the distribution of three free reusable bags to every household. The bags were paid for with a Middlesex County Recycling Grant and a Clean Communities NJ Grant.
"We wanted to provide all our residents with free reusable bags so that they easily will be able to comply with the state's May 4th plastic bag ban," said Mayor Reiman. "In the town colors of blue and white, the bags are very sturdy and will enable shoppers to use them for quite a while. We hope that you will celebrate Earth Day with us in Civic Center Park and pick up your free reusable bags."
The bags will also be available from 9 am to 5 pm Mondays to Saturdays from April 22 on at the front desk of Carteret Public Library, 100 Cooke Ave. At either the Earth Day event or the library, residents must present their IDs, as well as a registration form for the three bags (limited to one bundle per family) provided in the current and previous issue of The Carteret Press, which is mailed to every home and available at Carteret.net and the Mayor's Office at 61 Cooke Ave.
The Earth Day event on April 23rd in Civic Center Park also will include the distribution of Borough and County recycling information, as well as FAQs for residents about the new state of plastic laws. A municipal expert from the Borough's Recycling Center will be on hand to answer any questions residents have about local recycling. A free package of tree seeds will also be available on a first-come, first-serve basis to Borough youth. Signup sheets will be available for the Borough's annual Tree Planting Program. Family fun will include an interactive performance by kid-friendly, environmentally-minded band Trashaganza, a bounce house, and an ice cream truck.
Updates about the Earth Day event will be available at Carteret.net or by following @MyCarteret on Facebook, Instagram, and Twitter.