Carteret, NJ – Mayor Daniel J. Reiman was joined today by New Jersey Speaker Craig Coughlin to announce a $591,631 grant from the New Jersey Department of Transportation's (NJDOT) Municipal Aid Program for Phase II of improvements to Carteret's Washington Avenue Arts District Streetscape.
"The revitalization of Carteret's downtown and upcoming Washington Avenue Arts District would not be possible without help from our state leaders," said Mayor Reiman. "Grants and private investment provide the Borough with necessary funding, while still maintaining one of  the lowest tax rates in the region."
This funding is in addition to a $288,019 grant received for Phase I of the project from NJDOT in 2017. Phase I, anticipated to be completed throughout 2019, includes streetscape improvements along Washington Avenue associated with the Borough of Carteret's Performing Arts and Events Center.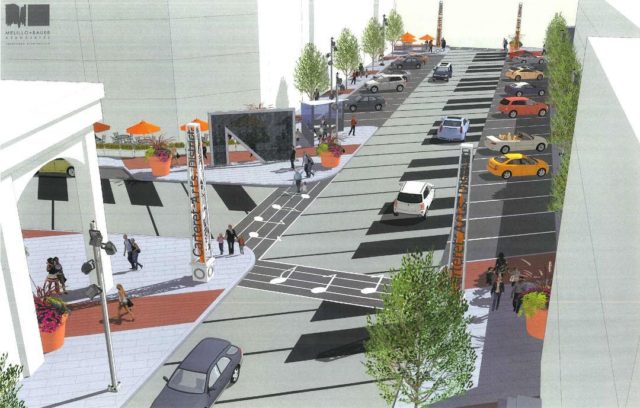 "As we complete Phase I of Carteret's Washington Avenue Arts District Streetscape, we can happily look forward to the beginning of Phase II" said Speaker Craig Coughlin. "Pedestrian and road safety starts with improving sidewalk conditions and repairing roadways, and the improvements that are being made will contribute to a safer and more aesthetically pleasing neighborhood.  I thank the Department of Transportation for the additional grant funding."
The funding awarded for Phase II will be utilized to improve the walkability and deteriorated pedestrian and vehicular infrastructure of the Borough's Arts and Theater District, which is expected to open in the Fall of 2020. The scope of work will include the installation of decorative concrete pavers, concrete planters with street trees, decorative street lighting, crosswalks with pedestrian signals, pedestrian safety bollards, and associated improvements.
The successful implementation of these improvements will serve to repair the surrounding roadways which have deteriorated due to various utility cuts, potholes, cracks, and areas of poor drainage. The Borough is seeking to improve the safety of the roadway by providing a smooth, consistent roadway surface, improving rideability and surface drainage. The improvement of sidewalk curb ramps to meet ADA requirements will also provide improved safety and equal access for the physically disabled. Street trees, thematic lighting and decorative pedestrian paths will greatly enhance the aesthetics of the downtown area and encourage walking and gathering in the Arts District.
Streetscape improvements will be focused around the perimeter of CPAC on Washington and Cooke Avenues, and paving along Washington Avenue, Cooke Avenue, and High Street.
For more information on the Carteret Performing Arts District and the Washington Avenue Arts District, please visit Carteret.net.