Carteret, NJ – Mayor Daniel J. Reiman joined the Carteret Borough Council, Carteret Business Partnership, Steel and Ironworkers Local 11, and officials from Torcon Construction Services last week to top off the steel with the last beam at the future Carteret Performing Arts and Events Center. Construction is scheduled for completion in Fall of 2020.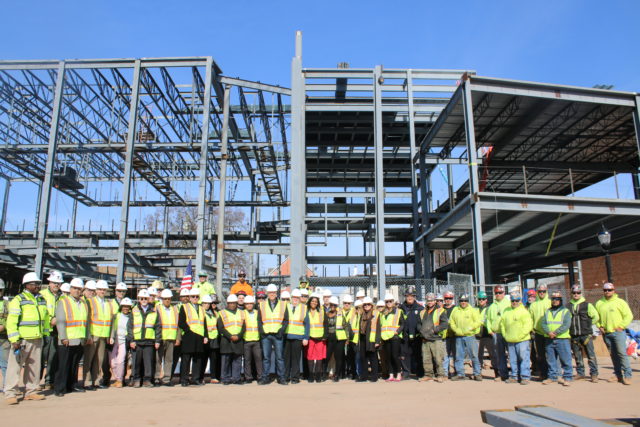 "As the steel frame is completed today at CPAC, we look forward to enjoying productions, banquets and the arts right here in Carteret for generations to come," said Mayor Dan Reiman. "We invite our neighbors around the state to discover what many already know – that Carteret is becoming a regional destination for families, entertainment, and recreation."
Dignitaries from the Borough and construction workers took turns signing the multi-ton steel beam before it was lifted by crane and set in place above the future 1,600 plus seat main auditorium. The venue will also include a 500-seat black box theater, suitable for a premier comedy club, a 5,000-square-foot art gallery, and a rooftop space which will host up to 200 people.
The theater is owned by the Borough and is being developed in partnership with the Carteret Business, a non-profit economic development corporation supported by businesses of the community. CPAC is funded in part by a $6 million grant from the Middlesex County Cultural Arts Trust Fund and a $1 million grant from the state of New Jersey.
To find out more about the Carteret Performing Arts and Event Center, please visit Carteret.net or call 732-541-3835.