****POSTPONED TO SUNDAY, OCTOBER 31st, 2021 from 12 – 2 pm at 100 Cooke Ave Outside the Library****
THE HALLOWEEN PARADE IS CANCELLED DUE TO THE IMPENDING STORM.
CARTERET, NJ – Mayor Daniel J. Reiman has announced Carteret's Annual Fall Fest and Halloween Parade will be held on Saturday, October 30th at Carteret Park from 12:00 pm – 3:00 pm. Lineup for the parade will begin at 11:30 am on Cypress Street off Washington Ave and the parade will begin at noon. The parade registration form is available on Carteret.net.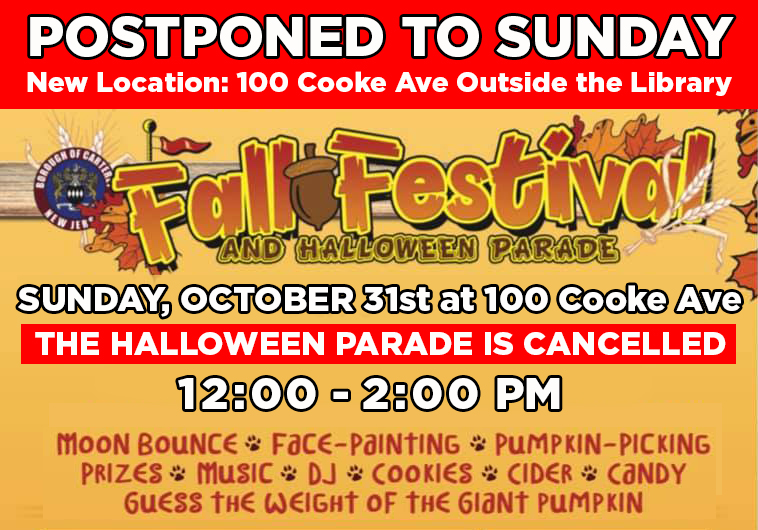 "Carteret's festivals bring our community together," said Mayor Reiman. "Not many towns in the state have the small town feel Carteret still does. We celebrate our diversity, embrace the creativity of our children with their unique Halloween costumes, and enjoy seasonal fall treats thanks to the generosity of local businesses through the Carteret Business Partnership."
This year's Carteret Fall Fest will feature many activities and fun for the whole family including moon bounces, face painting, pumpkin picking, live music by a Rolling Stones Tribute Band Moonlight Mile, a DJ, prizes, guess the weight of the giant pumpkin, cookies, cider, and of course Halloween snacks.
Additional annual festivals Carteret offers families are Latin Fest, the Annual Carteret Charity Carnival, Ethnic Day, the Independence Day Festival, and Holiday Fest, which is scheduled for December.
For more information on the annual Carteret festivals and all the family activities Carteret has to offer, visit Carteret.net or follow @MyCarteret on Facebook, Twitter, Instagram, YouTube, and Tik Tok.