State-of-the-art venue hosts The Marshall Tucker Band,
Scotty McCreery, John Edward and much more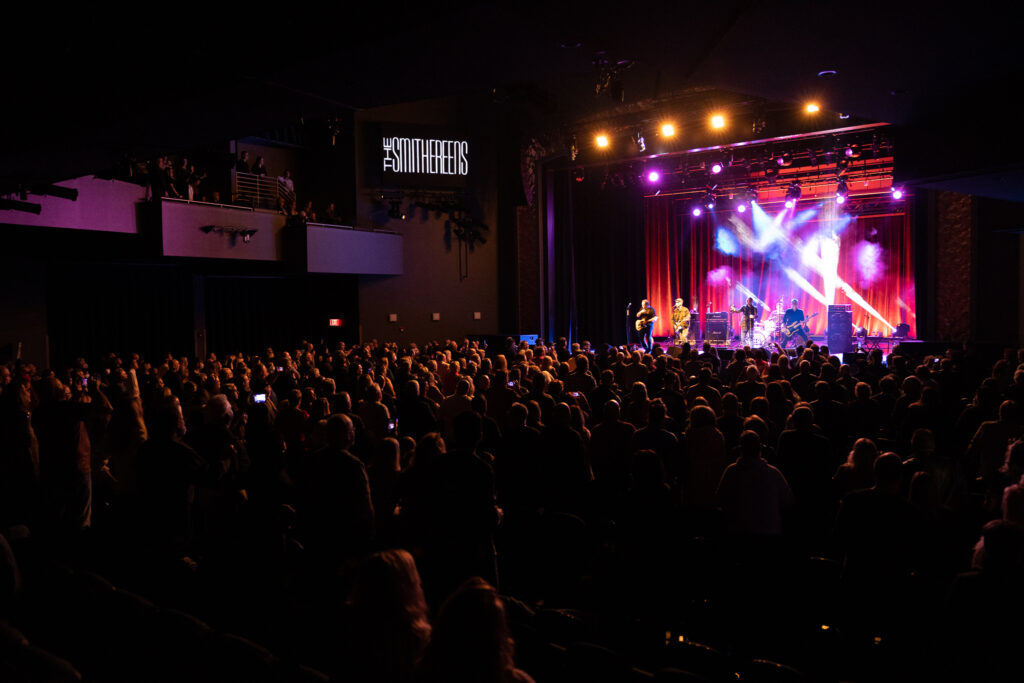 CARTERET, NJ – URSB Carteret Performing Arts & Events Center has announced a full calendar year of events that will feature something for everyone, Mayor Daniel J. Reiman said.
Whether you like classical, standards, oldies, pop, rock or R&B, more than 30 world-class concerts will be presented at the state-of-the-art venue, Mayor Reiman said.
"In addition to that, we have a full schedule of events featuring such established acts as Southern rockers The Marshall Tucker Band, rising country star Scotty McCreery, renowned psychic medium John Edward, and master illusionist Rob Lake, as well as Broadway performers, Off-Broadway hits, Grammy-winning musical artists, family-friendly shows and holiday favorites," the Mayor said. "We hope that you will join us at this gorgeous performance space that is the jewel of more than $300 million in surrounding redevelopment."
More events will be announced soon, but here's a look at what's scheduled at the arts center now by genre and with available ticket info:
POP
Little River Band, April 29 – Hitmakers of the 1970s and '80s reminisce with chart-topping hits, such as "Reminiscing," "Lonesome Loser," "Help Is on the Way," "Cool Change," "The Night Owls" and more. $35-$75
ABBAMANIA, May 20 – This Canadian production is rated the world's No. 1 Abba tribute. Authentic costumes were made by the seamstress of the hit Abba-inspired Broadway musical "Mamma Mia." A blend of incredible voices will take you back to when the Rock and Roll Hall of Fame act was touring. $35-$59
John Waite, June 2 – A British-born writing and performing as a solo act and member of The Babys for 45 years, John Waite spans his entire career in concert, including such hits as "Every Time I Think of You" and "Missing You." $32-$52, additional $90 for VIP meet and greet, pre-show performance, and autograph signing.
CLASSIC ROCK
Broadway's Rock of Ages Band, April 1 – The original all-star outfit that electrified performances of the five-time Tony Award-nominated show is beloved by millions of "Hair Nation" fans who like to party. $25-$49
ONES– The Beatles #1 Hits, April 20 – Considered by longtime fans of The Fab Four to be the most exciting Beatles tribute in decades, Ones presents 27 hits, including all 20 of the worldwide chart toppers spanning the six years from the appearance on the Ed Sullivan show to the Apple rooftop. $39-$59
Kiss the Sky, April 22 – Audiences experience the music of Jimi Hendrix while Kiss the Sky takes them through Jimi's fabled career throughout the Woodstock era. They are the only Hendrix tribute that features replica gear and backline rigs that accurately depicts Jimi's classic concerts. $25-$35
Average White Band, April 28 – Scotland-originated Average White Band is regarded as one of the top soul, R&B and jazz-funk groups; first known for the timeless instrumental hit "Pick Up the Pieces." $49-$69
Mr. Speed, May 19 – For more than two decades, Mr. Speed has wowed crowds with legendary KISS classics! They were crowned "The Best KISS Tribute Band in the World" at the Hard Rock Casino in Las Vegas. $25-$40
Fran Cosmo, former lead singer of Boston, June 9 – Fran Cosmo exploded onto the rock scene in 1992 when he became the lead singer for Boston, maintaining the group's legendary high energy and outstanding vocals that very few can perform. $39-$59
Taylor Simon King, Aug. 5 – With clever musical arrangements of unforgettable songs, Jersey-based Broadway talent Lisa Sherman leads and co-produces with her Oscar-winning husband, Franke Previte, this celebration of American troubadours James Taylor, Carly Simon and Carole King. $35-$45
Hotel California, Sept. 23 – When The Eagles stopped to catch their breath a few decades ago, having sold more than 100 million records, won six Grammys, and charted six No. 1 albums, Hotel California began a journey through their history-making music that has taken them around the globe and thrilled hundreds of thousands of fans. Sale date March 3.
Unforgettable Fire, Sept. 30 – After more than 27 years of playing prestigious East Coast venues, Unforgettable Fire has formed a reputation as one of the closest experiences to being at an actual live U2 show. Members are dedicated U2 fans who won't settle for anything less than complete authenticity of a career-spanning repertoire. $35-$45
Glen Burtnik's Summer of Love, Oct. 7 – 1967 marked debut albums by Jimi Hendrix, Janis Joplin, The Doors, Grateful Dead, and Pink Floyd, among others, and is immortalized as the Summer of Love. With a band as massive in talent as in members, veteran Jersey rocker Glen Burtnik pays to tribute the Woodstock Generation. $35-$59.
Southern RockFest, Oct. 13 – A double tribute to the Allman Brothers Band and Lynyrd Skynyrd, respectively by A Brothers Revival, featuring members of the Allmans, as well as Dickey Betts & Great Southern, and Classic Skynyrd Live performed by Southern Steel. $29.50-$49.50
Players, Oct. 20 – Players is a super-group of members of Chicago and Earth Wind & Fire performing the hits of both legendary acts. The band features Bill Champlin, Keith Howland and Jeff Coffey of Chicago and John Paris of Earth Wind & Fire. On sale 10 a.m. March 10.
Floyd Nation, Oct. 21 – This U.S.-based Pink Floyd tribute performs favorite hits from landmark albums, such as "Dark Side of the Moon," "The Wall," and "Wish You Were Here," immersed in sound, lights and lasers that take audiences on an epic musical journey. Sale date March 10.
Get the Led Out, Oct. 28 – This group of six established musicians expresses a deep love for Led Zeppelin by meticulously recreating their multi-layered recordings, which even the original four-piece didn't do. Get the Led Out is not an impersonation but rather a group of fans striving to do justice to one of their favorite bands. Sale date March 10.
Hollywood Nights, Nov. 10 – Also known as The Bob Seger Experience, Hollywood Nights is a tribute to the legendary Detroit-based singer-songwriter and his Silver Bullet Band. The nine-piece New Jersey-based outfit recreates everything about Bob and his music down to the smallest detail. Sale date March 17.
Foreigners Journey, Nov. 18 – The music and energy of two legendary stadium rock bands come together in this electrifying show starring twice Tony-nominated Constantine Maroulis, a Jersey-raised American Idol finalist whose original material peppers such Foreigner and Journey hits as "Cold As Ice" and "Don't Stop Believin'." Sale date March 17.
The Smithereens with Robin Wilson & Marshall Crenshaw, Dec. 2 – Carteret favorite sons return for their third annual homecoming featuring lead vocals by longtime friend Marshall Crenshaw, as well as Robin Wilson, whose band, Gin Blossoms, is one of many influenced by New Jersey Hall of Famers The Smithereens and their late, great co-founder, Pat DiNizio. Sale date March 17.
COUNTRY
Scotty McCreery/Neon Union, April 27 – Country star Scotty McCreery's most recent album, "Same Truck," contains his No. 1 RIAA Gold-certified singles "You Time" and "Damn Straight," as well as his newest single, "It Matters to Her." Opener Neon Union is an interracial duo who will please fans of Southern rock. $49.50-$99.50
OLDIES
Soultown to Motown with Sensational Soul Cruisers, June 10 – This 11-piece soul band deliver a choreographed show that brings audiences to their feet singing and dancing to the greatest hits of The Temptations, The Jackson 5, The Spinners, Marvin Gaye, The Four Tops, Smokey Robinson, Sly & the Family Stone, Otis Redding and more. $29.50-$49.50
Darlene Love, June 17 – Rock and Roll Hall of Famer Darlene Love continues to captivate audiences worldwide with her warm, gracious stage presence and superb performances of hits, such as "He's a Rebel" and "The Boy I'm Gonna Marry." $29.50-$59.50
"Sinatra, A Man and His Music," starring Michael Martocci with special guests The Duprees, June 24 – Hosted by NJ101.5's Bill Spadea and with the 22-piece Ol' Blue Eyes Orchestra, this multi-media presentation celebrates Sinatra's fabled career. $39-$69
CLASSICAL
Orpheus Chamber Orchestra, April 14 – Chopin's "Piano Concerto No. 1" and Dvorak's "Serenade for Strings" will be the program for this springtime concert featuring guest pianist 20-year-old Maxim Lando, who's been a global phenomenon since he was 11. $25-$55
MUSICALS
"Menopause The Musical®," May 21 – Now celebrating 20 years on tour worldwide, "Menopause The Musical" tells the tale of four women at a lingerie sale who have nothing in common but a black lace bra AND memory loss, hot flashes, night sweats, not enough sex, too much sex, and more! $35.50-$59.50
Doo Wop Project, June 16 – Featuring stars from Broadway hits "Jersey Boys," "Motown: The Musical," and "A Bronx Tale," The Doo Wop Project brings authenticity of sound and vocal excellence to some of the greatest music in American pop and rock history. $25-$55
iLuminate, Nov. 4 – During their 2011 run on "America's Got Talent," iLuminate was named best new act in America. Their distinct fusion of dance and technology will reawaken the senses and imagination. On sale 10 a.m. March 17.
COMEDY
Aakash Gupta, April 15 – The winner of Amazon Prime Comicstaan Season 2 is one of the top comedic voices of his generation, achieving success not only on stage but also online with YouTube videos that have nabbed 190 million views. With more than 500 sold-out shows under his belt, Aakash will be coming to the arts center straight from India. $35-$65
Manhattan Comedy Night, June 30 – This evening of hilarious comedy relief stars Big Apple comics Sandy Marks, Dov Davidoff, Carrie Karavas, and Ian Lara. Due to mature content, Manhattan Comedy Night is recommended for adults only. $25-$35
The Flying Karamazov Brothers, Sept. 9 – Expect the unexpected of four self-proclaimed eccentric lunatics in a zany showcase of laugh-out-loud comedy, wild theatrics, arcane errata, and astonishing juggling feats. $30-$45
Vic Dibitetto, June 15 – Italian-American comedian – self-described as "Donkey of Comedy" – returns to Carteret PAC with his "Working Class Zero" shtick. Tickets on sale March 10.
MAGIC
An Evening with Psychic Medium John Edward, June 1 – One of the world's most sought-after psychic mediums, John Edward also is an author of several critically acclaimed New York Times best sellers and star of TV's "Crossing Over with John Edward." He offers audiences a chance to experience messages from the other side. $65-$85
The Magic of Rob Lake, July 22 – For a second summer, Rob Lake returns to Carteret with new illusions! Named "The World's Greatest Illusionist" by NBC, Rob is internationally renowned for award-winning magic as mesmerizing as it is spectacular. $30-$65
FAMILY ENTERTAINMENT
Puppy Pals, Nov. 3 –Young Alexis Brownley leads a stunning troupe of dogs who will warm your heart with their cuteness while they dazzle your eyes with tricks and physical feats. They did the same two years ago on season 15 of "America's Got Talent," where they made it to the quarter finals when Alexis was only 8 years old. Sale date March 17.
WINTER HOLIDAYS
Holiday Dreams, A Spectacular Holiday Cirque, Dec. 3 – Experience winter holiday magic in a fun, exciting and technological show for the whole family. Holidays Dreams features cirque performers, award-winning specialty acts, side-splitting comedy within a dazzling array of holograms, project mapping and interactive lasers. Sale date March 24.
Wizards of Winter, Dec. 9 – This fun-filled Christmas rock experience for the whole family features former members of Trans-Siberian Orchestra, Blue Oyster Cult, Rainbow, Trixter and Broadway shows. Their rock opera, "The Christmas Dream," boasts soaring vocal harmonies, precision strings, powerful percussion and stunning keyboards. Sale date March 24.
An Olde English Christmas with Herman's Hermits starring Peter Noone, Dec. 16 – Heavy on hits from Peter Noone's iconic '60s British Invasion band, Herman's Hermits, such as "I'm into Something Good" and "Mrs. Brown, You've Got a Lovely Daughter," An Olde English Christmas also features favorite holiday hymns and carols. Sale date TBA.
All performances will take place in the 1,650-seat state-of-the-art main auditorium featuring a Broadway quality stage. The arts center also features a 250-capacity Miami-style rooftop cigar-bar lounge with cabanas and fire pits, as well as The Underground, a lower level black box theater that also serves as a bistro dining area prior to mainstage shows.
URSB Carteret Performing Arts & Events Center is available to rent for special events, such as weddings, expos, conferences, trade fairs, and conventions. Rental information and opportunities are available at carteretpac.com/rent-the-cpac/.
Updates about the arts center will be available at carteretpac.com/ or by following @CarteretPAC on Facebook and Instagram, and Twitter. For tickets, contact the box office at 877-849-2722 or carteretpac.com/box-office/.  For more information, email [email protected].